Hi and thank you fo your reply,

I don't understand though, say I use the method in the tutorial and do relocate these two folders. Will the backup program create only one image? containing the whole OS partition + these two folders?

Second question: Given the fact that these two folders are on another partition, how will they be put to the right place again since that partition would have evolved over time? Will the present-time files in these two folders be overwitten? (that would be ok actually).
Using Windows Backup to create a system image, they are or rather the partition or drive where they are located is automatically included in your system image.
Using a third party imaging tool, you need to include the partition or drive manually: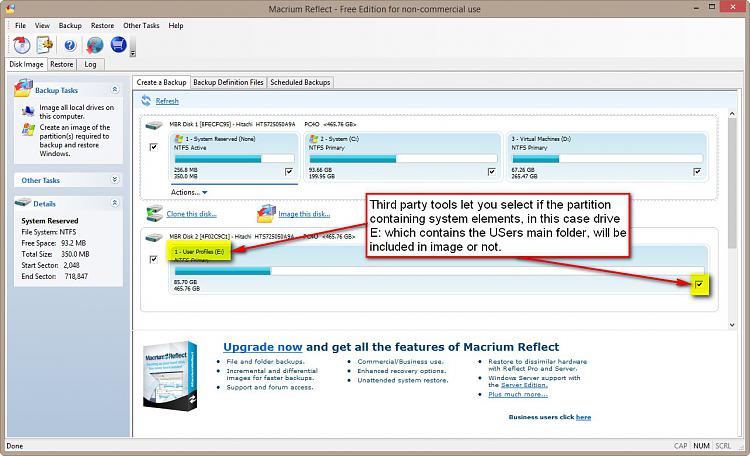 The comment above just shows how little knowledge leads you easily to wrong conclusions. Obviously you do not know what sysprep does and how the relocation is done. Using the sysprep
ONCE
to change a value of an environment variable versus dragging and dropping several folders and changing library pointers, it's obvious which method I choose!
One more reason why I most definitely do not agree with Lady's comment: In todays SSD era, quite a many users have relatively small SSD as system / Windows installation drive. The
AppData
(a hidden subfolder of Users) and its subfolders can really fill the SSD too fast. Running a simple answer file with sysprep and the whole
Users
fiolder, with everything it has and will in the future have, is moved and will never be an issue again regarding space on C:.
Here, a fairly normal, quite new installation on my laptop. Not much installed but yet the AppData is almost 30 GB. At least for me it's a big deal to have this, and everything else on Users, relocated on in my case E:. Simply and fast, with one command:
Lady, you cannot drag AppData to another drive. You need Sysprep.
Kari