Thought I would share pictures of my two dogs ...
There were only two women in my life
one was a brunette and one was a blonde
sadly they have both taken their path's to destiny ....
The blonde was of the four legged variety
who loved nothing better than our Sunday Morning walks to the convenience store
so she could carry home the paper ...
her name was Beth
The other was a mix whom we inherited one summer's day
when his first owner saw Beth and I in the park ...
he said his wife could no longer handle this rambucious black furball,
and after he and his wife brought Remus to visit
they were back with his blanket, and kong etc
and he became one of our family.
with my son just after Remus came to stay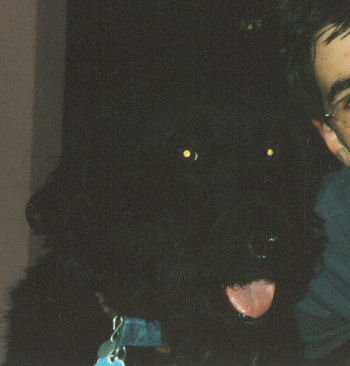 with my son when the brunette could no longer stay
these were some words I penned after Remus left us and I wanted
everyone to know the joy he was in our lives ...
perhaps nommy they will remind you all all the good times you shared with Bertje ...
remember me…
for the extra time I gave you Beth,
remember me…
when you taught me to swim at the cottage lake
remember me…
as you threw my ball while in the park
remember me…
for my joyful bark
remember me…
for my antics in the snow
remember me…
for my kong as we walked home
remember me…
for all the good times that we had,
but it's time, it's time for me to go
so long old fella ...
Remus
R.I.P.
21st March, 2009.