Hi Sue, I think you mis-understood, that right click is if you want to save the photo of the day that's showing, which is not what I meant. It's the way they have made the page so that every photo has the search bar taking up space on the photo that is showing, like todays one.
Attachment 196862
Hi Joan, the only way that I know of to save or set any image that has unwanted elements is to follow Sue's method, but it will need to have an extra step preformed in order to set it as a background.
You would have to follow one of Brink's tutorials that I will place at the end of each set of instructions.
I will start with IE as Sue's instruction calls for
"Save background as..."
To save the image of the day without the Search Bar in IE8:
Right click on image, select Save Background As...
A Save As...Box opens, and you could then save the image where ever you liked.
Then follow:
Desktop Background - Change
Our FireFox acted differently:
Right click on image.
Left click on image scroll down, and select View Background Image.
Depending on your Browser settings; it may or may not open in a new Tab/Window, ours did.
Left click on image, select Save Image As... From here you can save it where ever you like.
Then follow:
Desktop Background - Change
Result of either Browser method using Brink's tutorial: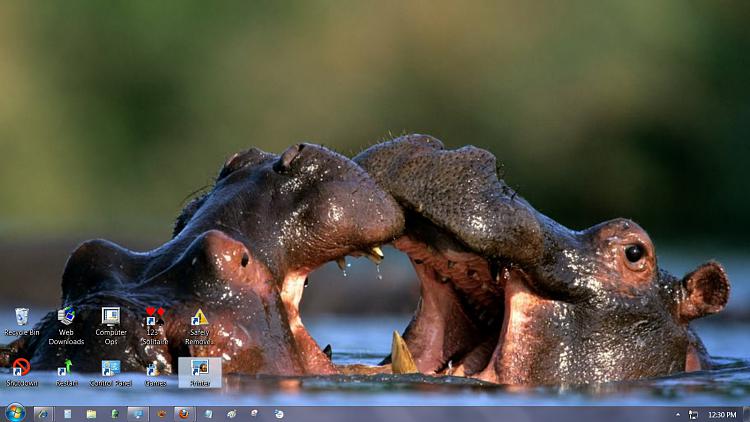 Joan, that Hippo on the right has her/his eye on us!

~~~ ~~~ ~~~


For Sue
. You would need to use a video downloader program or an add-on for your browser.
Suggestions:
http://download.cnet.com/windows/video-players
Add-ons for IE as you might imagine are a little hard to find, here is one:
Ant Video Downloader for Internet Explorer - Ant.com
Add-ons for FF:
Search Results for "Save Videos" | FireFox | platform=windows
This one seems popular for FF:
Video DownloadHelper 4.9.8