I'm a huge music lover who also loves collecting special or hard to find/limited editions of albums and Cd's, especially the audiophile editions.
That said, these arrived today – Earth, Wind & Fire's Last Days and Time, originally released in 1972 (Yes I have the vinyl version). The other is Rare Earth's Get Ready, originally released in 1969.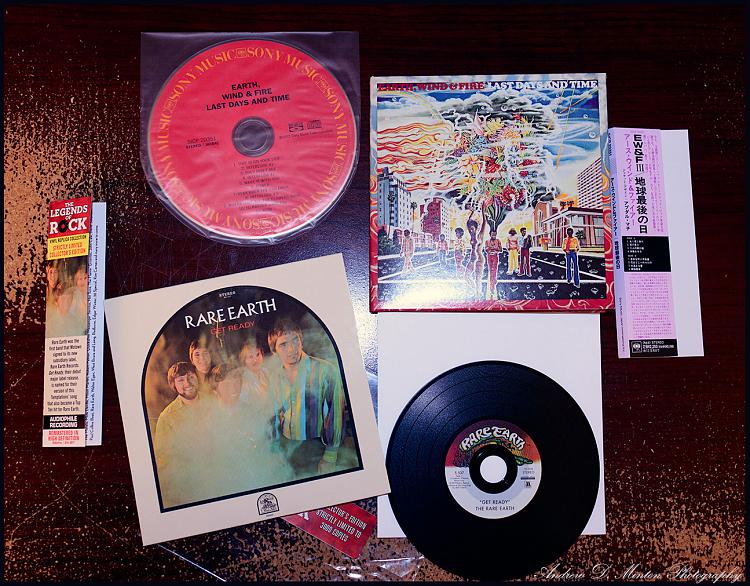 The Earth Wind, & Fire CD is a Japanese paper sleeve edition release – The paper releases are faithfully reproduced to mimic the original album cover from its vinyl release. It is also a
Blu-Spec CD
.
The other CD is also a paper sleeve repro, but these come from a USA based company (
Culture Factory USA
) who are re-releasing re-mastered titles in "Strictly limited to 3000 copies" editions. These are considered audiophile recordings and are re-mastered in High-Definition. They are recorded at 96khz/24-bit. Click
here
for their re-mastering process.
What makes these Culture Factory CD's stand out is the CD itself – They are made to actually look like mini vinyl albums, down to the black CD (both sides) and visible track grooves (one side).
I have to admit, this alone sold me on the CD, and I'll be picking up other titles because of this. And the sound quality is phenomenal. Accurately balanced with no heaviness of bass, overly bright highs, or muddy mids.
Anyway just wondering if there are other audiophile CD/Album collectors here?