November 27, 2009 5:53 PM
Walmart's Black Friday Rip-off
Customers arrived at 5 a.m. to find $198 laptops had all been assigned the day before to people who called the store, never mentioned in ads.
David Coursey
TRACY, CA -- Black Friday customers who arrived at the Walmart store here, expecting to purchase an e-Machines laptop for the $198 Black Friday price were surprised to find the entire shipment of 37 units had been assigned to other customers the day before.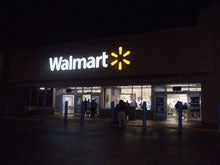 A store manager admitted that the only way for a customer to know that tickets allowing later purchase of the machines were being distributed early would have been to call the store and
Such tickets are used by other stores--such as Best Buy--but were not mentioned in Walmart's Black Friday advertising, which only said the laptops would be on sale from 5 a.m. until 10 a.m.
"That really sucks," said one unhappy customer when he learned he could not purchase a laptop, despite at the store at 5 a.m. when the sale was supposed to start "How was I supposed to know to call?"
The Walmart manager, named Mark, said other tech products had been pre-sold in the same way as well, but did not elaborate.