That seems to make no difference. Added a screen shot of the message...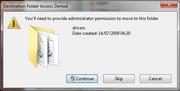 The 'security shield' makes me think if you click it it will take you to the place where you need to change the permissions (well it would on my Mac!

)
As I said above, I have got the highest permissions as far as I can tell but I just can't work out what to change!!!
Please help because I am really missing my game and can't get the disk to work