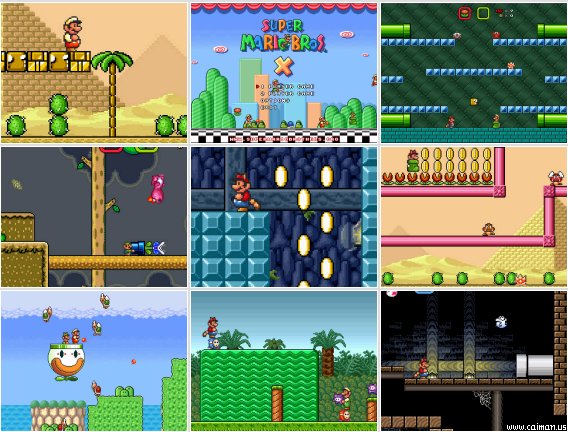 Two player simultaneous co-op play:
The players interact with each other in the same way as the classic Mario Bros. game.
Bounce off each others heads, bump your friend off the edge, and even eat the other player with your Yoshi.
It has a dynamic screen that seamlessly splits and combines as the players separate and rejoin.

Three complete episodes to choose from:
Play the classic v1.0 'Invasion' with over 60 levels to explore, most of them with secret exits.
Try out 1.1 beta demo 'Princess Cliche' or go strait in to the brand new 'Great Castle Adventure' where Mario
must collect stars to rescue princess Peach in a fashion very similar to Super Mario 64.

An easy to use yet powerful level editor
This game comes with the same editor that was used to great the included episodes. Create your own levels,
then put them in a world or connect them with a hub level and share them online.
Did I mention you can create the level real-time while you are playing it?
Try erasing the ground below your buddies feet, or dropping 100 koopa troopas in his head.

Both old and new power-ups:
You want Yoshis? We have seven of them, the four classics and three brand new ones,
all with abilities. How about Goomba's shoes? It's here.
Why don't you grab the leaf and take flight, or highjack the Koopa Clown car and
take your friend for a ride while he rains fireballs down on the enemy.
Don't forget about the bullet bill cannon or the portable piranha plant.

And much much more:
It has a soundtrack of 50 songs. It has cheat codes.
Type in captainn and you can freeze time when you press start, type in
shadowstar and you will transform in to shadow mario who can walk through
walls. Getting tired of only controlling one Mario? type in supermario128 and
you can lead 128 of them!

And this is just the tip of the ice-berg.
Caiman free games: Super Mario Bros. X by Andrew Spinks aka Redigit.
Controls:
(redefinable)
in menu: Arrows + Z
Arrows = Move
Z = Jump
X = Run
Shift = Drop item
Esc = In-game menu (pause, save, quit)
Play Super Mario Games Online - Super Mario Brothers . org