Hello all, I am new to these forums so please forgive me if I put this post in the wrong area or something of that nature.
I'm running a 2 month old Toshiba Satellite PC, when suddenly all of my Partitions, except for my C: drive disappeared. My computer also failed to recognize my CD/DVD Rom drive, however, after searching around I was able to find a lot of people with the same problem and recovered that Partition and the use of the drive by deleting the upperfilters in my registry. But the other Partitions are still gone and marked as inactive in my Disk Management. This is what I am looking at: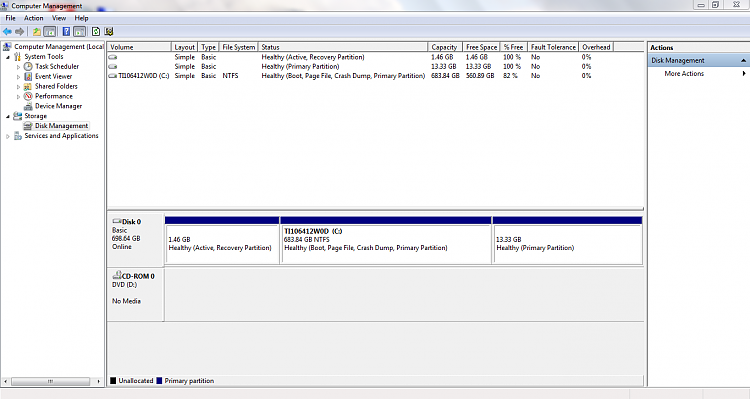 As you can see, it shows an additional two partitions, but they cannot be made active by right clicking them. When I right click them, all options are "greyed out" making it impossible to preform and actions.
I tried using a couple partition recovery softwares, but to no avail, because I am not trying to recover lost partitions, I am trying to activate partitions that are already existing. I have norton 360 installed and ran several anti-virus programs that came up cold. However, I did find one gentlemen on youtube, that had the same problem and fixed it by restoring the computers factory default settings. This is the video:
https://www.youtube.com/watch?v=G0qENIBLo5s
That's almost identical to my problem, and like the gentlemen in the video states, there does not seem to be a lot of info available to this particular situation, unless I missed it.
This course of action seems a little drastic to me, and a bit risky, so before doing this, I wanted to get the opinion of this forum, and see if some of you individuals more knowledgeable than myself can help. Keep in mind, I'm ignorant to a lot of this stuff, so please explain gently.
Thank you in advance, Brandon.