The is noting wrong with the way Windows 7 is sorting the files. Allow me to explain, and perhaps you can stop making claims that are untrue. First, I want you to examine the following screenshot: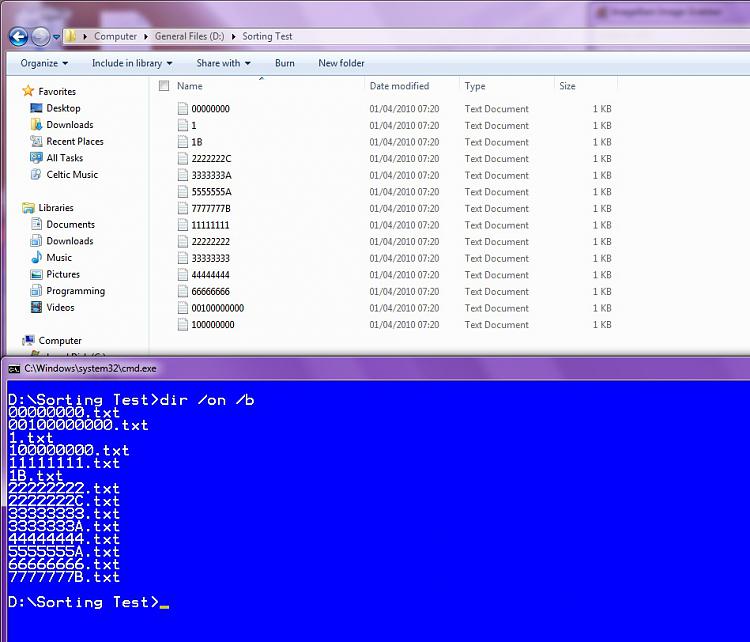 I recreated the files you are using to make your claim, and this is what I've discovered:
Windows Explorer will attempt to sort filenames using correct alphabetical sorting, and also attempts to extrapolate numbers in the file names. In other words, it uses correct Alpha/Numeric sorting. If you look closely at your filenames as displayed in Windows Explorer, you will see that they are sorted in numerical order.
However, if you look at the same listing of files within the command prompt (sorted by name), then the listing is different. That is because the command line, and indeed older operating systems, don't correctly sort alphanumerically, they sort using the ASCII codes of the characters in the filenames. In ASCII, the numbers "0 - 9" are represented using the codes 48 - 57, while "a - z" is represented using 97 - 122, and "A - Z" are 65 - 90. This is why in the command line sort (using your example filenames) the file "22222222.txt" is listed before "222222C.txt".
I believe the sorting mechanisms of the Windows Explorer GUI are correct, as it distinguishes correctly between letters and numbers.