Introduction

Welcome, it seems to me that there have been many people here who have bought certain prebuilt computers, only to find that the computer contains only pci slots, with no way to add a traditional agp or pci-express x16 video card. Many of these people only find out they can't upgrade after buying the computer and trying unsuccessfully to install "the newest game," having it not run at all, or very slowly with the integrated graphics chip. Then these said people try to find out how they can get "the newest game" to run on their computers, and so they hit the forums, like techspot, for advice and help. Many people will suggest the latest $100-$200 video card for agp or pci-e, without thinking that the person could possibly not have an agp or pci-e slot. Then, some brave soul breaks the bad news that the system in question only has pci slots. Some people then lose all hope and say that no pci card would be any better than the integrated chip in their pc. Today I will be testing one of the best pci graphics card currently available (as of 2009) the Sparkle Geforce 9500 GT.I hope this article will help people with pci only systems decide what they should do.
The reason I care about the subject, is that I too was in a situation several years ago where my pc only had pci slots and I wanted to play "the latest game" which I had purchased. My system was a dell dimension 2300, but the 2350, 2400, 3000, and B110, are similar as well.
Video Cards



I'd recommend the 9500GT, 9400GT, HD 4350, or 8400GS cards. I'd recommend the 9500GT for best performance.

Note: There is a
8600GT PCI card made by Albatron
, but I can't find it for sale in the US.
-9500GT-
SPARKLE SP95GT512D2L-HP GeForce 9500 GT 512MB 128-bit GDDR2 PCI HDCP
SPARKLE SP95GT1024D2LHP GeForce 9500 GT 1GB 128-bit DDR2 PCI HDCP
-8400GS-
EVGA 512-P1-N724-LR GeForce 8400 GS 512MB 64-bit GDDR2 PCI
SPARKLE SFPC84GS512U2LP GeForce 8400 GS 512MB 64-bit GDDR2 PCI HDCP

-9400GT-
SPARKLE SP94GT512D2LHPP GeForce 9400 GT 512MB 128-bit GDDR2 PCI HDCP
SPARKLE SP94GT1024D2LHP GeForce 9400 GT 1GB 128-bit GDDR2 PCI HDCP
EVGA 01G-P1-N948-LR GeForce 9400 GT 1GB 128-bit DDR2 PCI
-HD 4350-
HIS H435H512PP Radeon HD 4350 512MB 64-bit DDR2 PCI

Memory Interface

Some of you may question whether a card with a 64bit memory interface can compete with cards with a 128bit memory interface. I at first questioned this, since it seems like "everywhere" online people claim that all 64bit cards are total trash, and that the worst 128bit card would beat the best 64bit card.
Sparkle GeForce 9500 GT 512 ScreenShot With GPU-Z: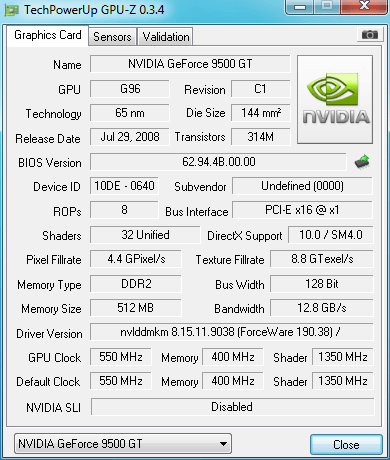 All credits go to Vnf4Ultra at
www.techspot.com


For more information enter to:

So you only have PCI slots and want to game? - TechSpot OpenBoards

This post should be Stick