Intel Core i7 980X Extreme Review: An Overall Look at the Core i7 Family.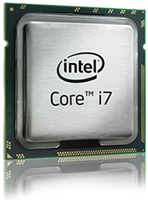 It seems hard to believe but it's been a year and a half since we looked at the first Intel Core i7 processors. Back then we
reviewed the Core i7 920, 940 and 965 Extreme Edition
launched at MSRP's of $284, $562 and $999, respectively. Although these are being phased out today by newer
Core i7 930
,
950
and
975 Extreme Edition
models that offer a slight performance bump, the Core i7 920 for example is still priced very
close to its launch list price
.
This is an obvious exception to the rule for pretty much any component that's been on the market for over 12 months, and no doubt a current owner pleaser. To further augment this situation, Intel has just recently enhanced the investment that Core i7 customers made in the LGA1366 platform by providing an even more powerful upgrade alternative.