Hey all. I spent some time looking for a tutorial that I found a while back but it has apparently vanished. Luckily I had doe it enough and actually remembered what needed to be done so I decided to share with you all.
Is this tutorial for you? Let's see if your scenario matches up....
If you have a small but fast (or maybe not so fast) drive that you would like to ONLY run Windows off of and a larger separate HDD that you want to use as the install drive for all programs.
In my case I have a 50GB SSD and a RAID0 array of 2TB. With space being limited on the SSD the best option for me is to install everything to the RAID array and leave the OS on the SSD. Mind you, you don't have to be running a RAID array to do this. That's just how my system is set up. You'll probably be better off just using a larger single HDD for stability reasons. But to each their own...
So the first big thing to note is that this is best done on a fresh installation. While it can be done on an already set up system you may run into some issues.
DO THIS AT YOUR OWN RISK!!!!
And if you are doing a fresh install you should give this tutorial a look:
User Profiles - Create and Move During Windows 7 Installation
So the first step is to open REGEDIT. Simply click the Start Menu, type REGEDIT in the search bar and hit ENTER.
Next look for the "HKEY_LOCAL_MACHINE"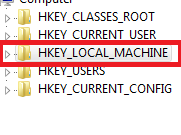 Once opened go to "SOFTWARE". There are two folder in this directory we will be editing. Note that the second folder "WOW64" is only for 64-bit users.

If you are running 32-bit then the "WINDOWS" folder is all you will need to make changes to.

Now from the "WINDOWS" folder you want to select "CURRENTVERSION". Simply click the folder itself not the arrow next to it. This is what you should see in the main window to the right of the directories. Now my registry settings have already been changed. Note that my secondary drive is "D:\". Originaly everything here was set to "C:\".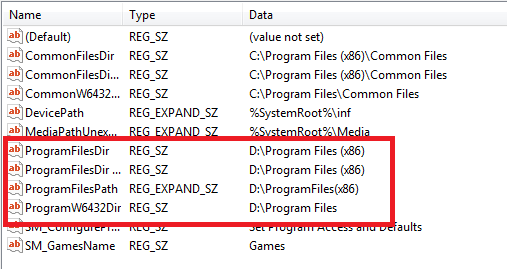 Once this is finished the 32-bit users are finished and can restart their systems. 64-bit users have one more step. Now you want to go to your "WOW64" folder. While I just realized I forgot to cut a snippet for this step it's fairly simple. Once in the "WOW64" folder you once again want to click the "CURRENTUSER" folder and observe the main window to the right.
Just like in the "WINDOWS" registry you will make the same changes. Once you have implemented your drive your registry should look like this.
Now restart your system. Though there is a chance you are completely finished I highly suggest running a command prompt session and typing "sfc /scannow". This will allow your system to scan for any conflicts in the internal settings and fix them.