My recommendation: Hard Disk Sentinel Pro
Hard Disk Sentinel - HDD health and temperature monitoring
"Hard Disk Sentinel (HDSentinel) is a multi-OS SSD and HDD monitoring and analysis software. Its goal is to find, test, diagnose and repair hard disk drive problems, report and display SSD and HDD health, performance degradations and failures. Hard Disk Sentinel gives complete textual description, tips and displays/reports the most comprehensive information about the hard disks and solid state disks inside the computer and in external enclosures (USB hard disks / e-SATA hard disks). Many different alerts and report options are available to ensure maximum safety of your valuable data.
No need to use separate tools to verify internal hard disks, external hard disks, SSDs, disks in RAID arrays as these are all included in a single software.
Hard Disk Sentinel monitors hard disk drive / HDD status including health, temperature and all S.M.A.R.T. (Self-Monitoring, Analysis and Reporting Technology) values for all hard disks. Also it measures the disk transfer speed in real time which can be used as a benchmark or to detect possible hard disk failures, performance degradations.
HDSentinel is the perfect data protection solution: it can be effectively used to prevent HDD failure and SSD / HDD data loss because it has the most sensitive disk health rating system which is extremely sensitive to disk problems. This way even a small HDD problem can't be missed. The Professional version has scheduled and automatic (on-problem) disk backup options to prevent data loss caused by not only failure but by malware or accidental delete also."
It is on day-one on my Zotac Mini-PC and I am impressed.( Regular price USD 35; currently available at 40% discount with coupon code. I paid INR 1267 as against 2112)
A screenshot: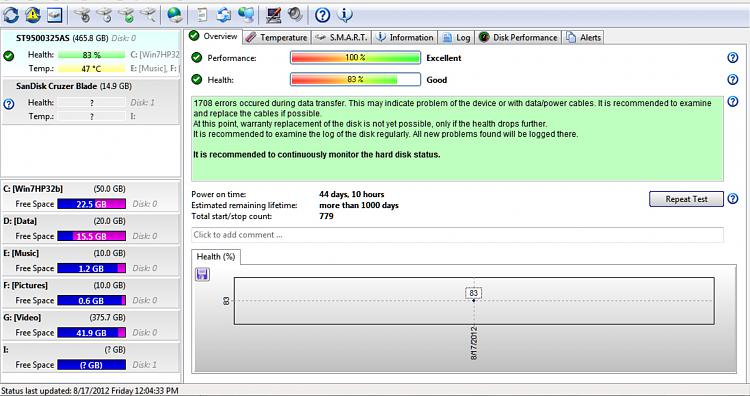 (When I tried to image it (new HDD) after a fresh install of Windows7 Home premium with Paragon, it refused saying the HDD had errors and I should run the manufacturer's utility to diagnose/repair - by contrast Shadowprotect Desktop indicated that there were "non-fatal" errors but all the same imaged it. Jolted, I ran SeaTools for DOS and it indeed found countless errors and repaired it. Paragon then imaged the HDD without any problem. Now two years on the HDD is still going strong with periodical imaging with Paragon. I am impressed because HDSentinel brought out a problem report on its first run. Health 83% but not a concern as long as the HDD continues to maintain it.)
Two screenshots plugged out from two users: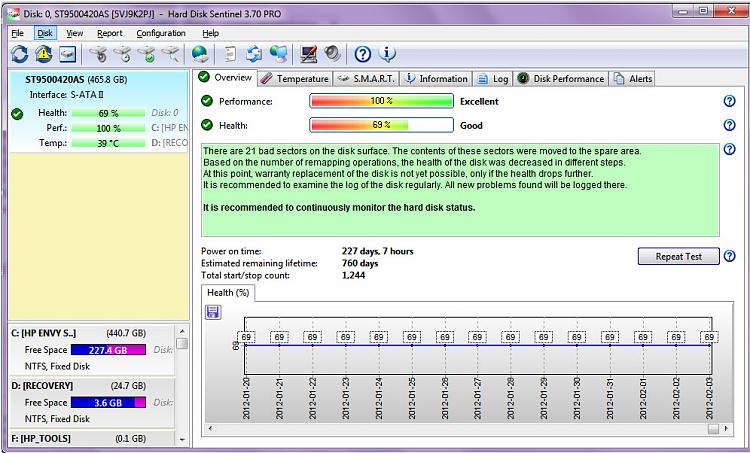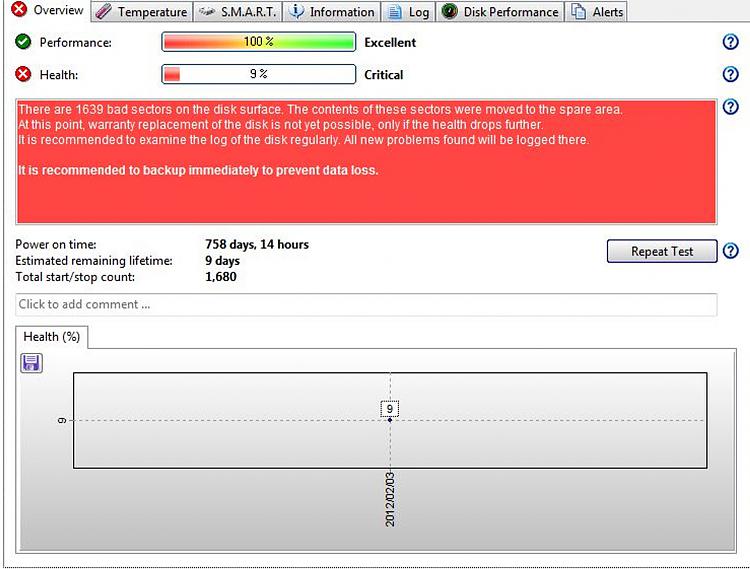 A complete run-through on this software
Hard Disk Sentinel Professional can Monitor, Inspect, Fix Errors in HDD and SSD: Review & Giveaway - Insights in Technology
(I really like Sujoy's reviews which deals with all the features of any software and his own personal conceptions on these.)
Note:The software may not work with its full potential with RAID. The author says that most RAID controllers/
drivers
hide the information. If you intend to use it with your RAID, download the trial software and check before putting your money on it. I think a compatibility list is also available on the author's website.