I have found the culprit. Thanks to LatencyMon, I was able to correlate the spikes in DPC Latency Checker with the long execution time of calls made by iaStor.sys. This is the Intel Rapid Storage Technology
driver
. Intel Rapid Storage Technology is software that allows me to do SSD caching (since I have an SSD and a Z77 chipset motherboard).
SSD Caching originally came out on the Z68 chipset, so it has been around for a bit.
I tried rolling back the driver to the version on the Intel site (10.8.0.1033-11/11/2011) which had no effect. I then reinstalled the version from Biostar (11.0.0.1032-16/03/2012) and I still have the problem.
Here is a screenshot of the lag occurring while being monitored by both latency programs:

And here is the driver list:
I'm not sure where to go from here. On a hunch, I have changed the caching mode from "Maximized" to "Enhanced" (fastest to less fast).
Now that I have it in the slower mode, I saw a similar spike, but there was no corresponding long execution of iaStor.sys calls. Instead, it just says that the spike was kernel timer latency.
Here is a screenshot: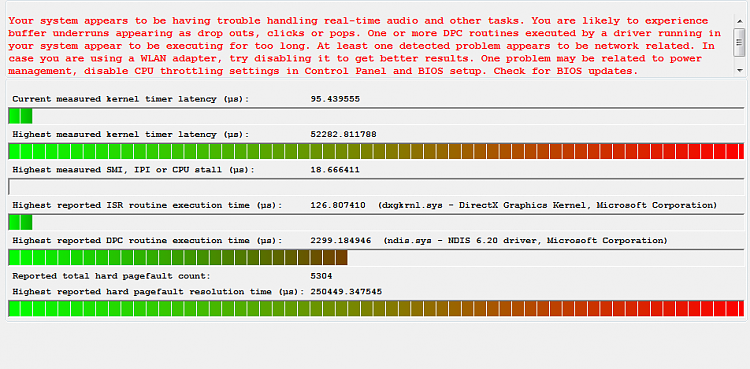 The slow DPC call was a Network Driver Interface Specification (NDIS 6.20) driver delay, and was only yellow on DPC Latency Checker.
The iaStor.sys driver is behaving "normally" now.
Any thoughts?
Also, I'd rather not leave it in Enhanced mode since the real performance gains are in Maximized, and the lag happens anyway.