Welcome to Windows 7 Forums. Our forum is dedicated to helping you find support and solutions for any problems regarding your Windows 7 PC be it Dell, HP, Acer, Asus or a custom build. We also provide an extensive Windows 7 tutorial section that covers a wide range of tips and tricks.
Windows 7 Help Forums
»

Windows 7: DLL File - Create with Customized Icons
DLL File - Create with Customized Icons
How to Make Your Own DLL File with Customized Icons
Published by
fimble
15 Jun 2011
Published by
How to Make Your Own DLL File with Customized Icons


My old XP machine, and I mean old!!, was continually crashing. I got fed up with re-installing and having to re-do my own personal customizations, so I took a leaf out of someone else's book and used this method to quickly reset my PC as to how it was. This I've carried on now I've got Seven.

We're not actually going to be making our own dll file here to store your customized icons, we're going to borrow one. So to start.


Things you'll need.
I'm going with ResHacker, an old and trusted program. If you have a personal favourite then that is fine. If you're running a 64bit system make sure you get the latest, 3.5.2 version of ResHack from HERE. Scroll down the page until you see this box:


That's the one you need.
Now visit this "Add Take Ownership To Context Menu" tutorial and install the reg file as per instructions. Really, you should have this anyway.

Microangelo Librarian trial is good for viewing, but always seems to stumble at saving, specially when the icons contain a 256 png image. It's up to you.

We're Off!

Open C:\Windows\System32 and locate the MORICONS.DLL File.
Copy and paste it into a new "work in progress" folder, Preferably on a different partition so you'll not lose it if things go wrong with your system and you need to re-install.

Now use the "Take Ownership", just to make sure it belongs to you.

Rename the MORICONS.DLL using a unique name (yours?? Unless you are called shell32!). I'm using fimbles here so mine is now called fimbles.dll. Next create a folder with an "AA+" name in the System 32, and the SysWOW64 folder (if you've got it). Occasionally when changing icons you'll get sent to the SysWOW64 folder instead. It depends on what you are changing. By putting your dll in an AA+ folder it will always be the first (maybe second) folder you see when you open the System32 folder. It saves a search!




Open your borrowed MORICONS.DLL file, now, for me, called fimbles.dll with ResHack.

Expand the Version Info key. You'll want to change the two MORICONS.DLL names to your new (fimbles.dll) name. This is not absolutely essential, until your system starts trying to use icons from MORICONS.DLL (highly unlikely, but why chance it?) and discovers there are two. Easier, and more consistent, just to change it now. Once changed, press the Compile Script button, then File, then Save. Well that's the hard bit done!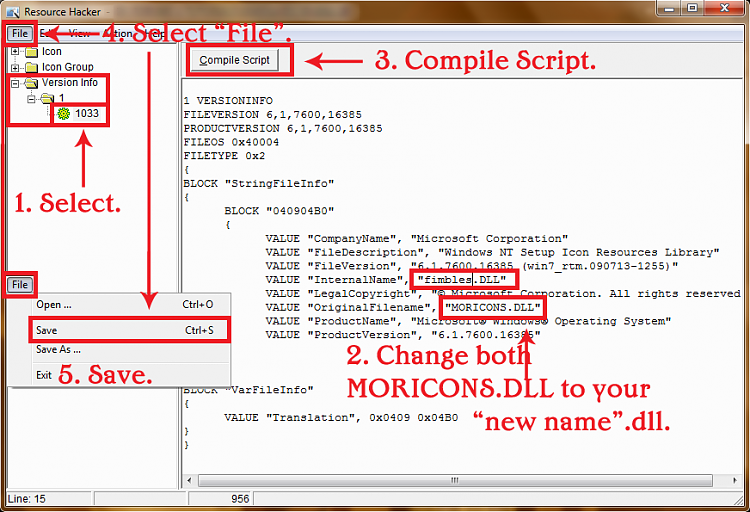 If you have an icon viewer similar to Microangelo Librarian we can now view the icons already installed in our (my) fimbles.dll file.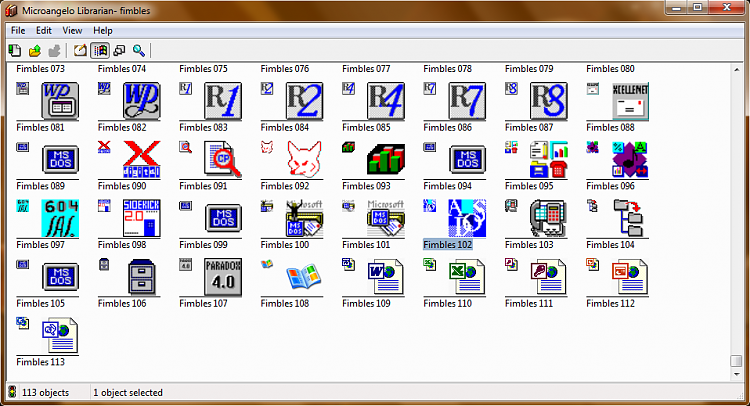 Aren't they some beauties? Just crying out to be changed. What interested me though was that there are 113 different icons I could change before I worried about how to add extra icons (easy enough once you know but won't go into that just now, suffice to say you can use ResHacker).

So now all you have to do is replace the original icons in "your" dll file with your modified icons. Once done drop your "fimbles.dll" into your folder(s) you added in to your system and then start changing your icons over.

If you use something like Regshot (I'm attaching, can sometimes be hard to find), to take a "before icon change" and an "after icon change" registry snapshot, you'll then see which registry key, if any, has been changed. You can then export (save) this so you only need to re-enter it after a system re-install to maintain your modified icons. I've actually merged all my registry changes in to one reg file so now I drop two folders in my system folders, double click one reg file, delete the icon and thumbs caches, re-boot and TA-DAA! All modified icons are in place.

For a bit of consistency I've kept numbers 004 and 005 as my default folders open and closed replacements and number 030 as my shortcut arrow overlay replacement. Always remember that Icon Groups are one number lower than the viewed number. This is because your number 001 icon is read by Windows as the default or "no number" icon. So your number 002, to Windows, is 001 etc..

This may sound a bit long winded, but once started is easier than writing it down/reading it. And you only have to do it the once, not every time you re-install.

I've started adding my modified string tables to mine now, but I'll save that for another day.

Regshot 2.0.1.70.rar
15 Jun 2011
#1




Windows 7 Home Premium 64 Bit SP 1

---

I am going to try it at the first chance .... after completing my works .

Good work, Fimble

My System Specs
15 Jun 2011
#2




Windows 7 Home Premium x64 SP1

---

Nice Tute Fimble

A Guy

My System Specs
16 Jun 2011
#4




Windows 7 Ult x64 - SP1/ Windows 8 Pro x64

---

Nice tutorial, good work.

My System Specs
03 Jul 2011
#6




Windows 7 Ultimate X64 SP1

---

Looks interesting. Maybe I'm dense and not so nimble at the registry as you, but where, exactly did you insert your own icons? How also. This is like a statement "create a .bat file"... I don't know how to do that either.

My System Specs
19 Sep 2012
#7




---

Nice Tutorial ......

My System Specs
DLL File - Create with Customized Icons
Our Sites


---

Site Links


---

About Us


---

Find Us


---

Windows 7 Forums is an independent web site and has not been authorized, sponsored, or otherwise approved by Microsoft Corporation. "Windows 7" and related materials are trademarks of Microsoft Corp.

© Designer Media Ltd

All times are GMT -5. The time now is

04:55 AM

.