How to See Full Map of Network Computers and Devices in Windows 7

Information
The Windows 7 network map is a useful graphical representation of all the devices that connect to the same network. The network map can show you the names of the devices (e.g. computer, router) the type of connection between them (wired or wireless), and the ultimate path to the internet.

The network map also has a useful "hover over" functionality that allows you to easily gather information for a device such as IPv4, IPv6 and MAC addresses.

Note
Requirements
In order for networked devices to display on the network map, they must meet four requirements:
Must belong to a HOME or WORK network
The network map can only show devices connected to a HOME or WORK network location. Devices connected to a PUBLIC or DOMAIN network cannot be displayed using the network map.

Devices must be DISCOVERABLE
The network discovery setting allows devices to be able to be seen by other devices on the same network. In order to enable Network Discovery please refer to the instructions in this tutorial:

Network Discovery - Turn On or Off in Windows 7

Devices must conform to LINK LAYER TOPOLOGY DISCOVERY Protocol
Link Layer Topology Discovery (LLTD) is a protocol developed by Microsoft to allow networked devices to "discover" one another. If a device does not make use of the LLTD protocol then it cannot be displayed on the network map (e.g. Windows XP 64bit computer). All Windows Vista and Windows 7 computers have the LLTD protocol implemented.

LLTD must be enabled on your LAN Connection Properties

The Link Layer Topology Discovery Mapper I/O Driver and the Link Layer Topology Discovery Responder must be enabled on your Local Area Connections Properties Panel.
To check that this is activated, follow these steps:

1. Select Open Network and Sharing Centre by clicking on your network icon at the lower right-hand corner of your taskbar:

2. Now click on your current Local Area Connection:

3. Now click on Properties:



4. Ensure that the two LLTD options shown below are checked:



By default, these options are always enabled in Windows 7.


Viewing the Network Map
Open the
Network and Sharing Center
,and click on
See Full Map
: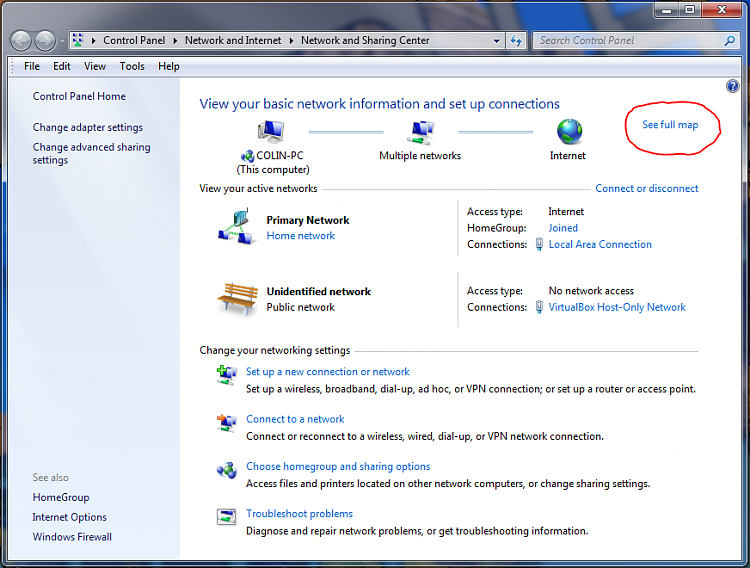 You should now see a graphical representation of the devices connected to your network. Here is an example:
In the map above, you can see I have three computers in my network, and all of them are LLTD compliant since they show in the map. Two of them connect via ethernet cable (double solid green lines) through a switch to my router, and then eventually out to the internet via a wired (double solid green lines) ADSL2 connection. The third computer connects to my router via a wireless connection (double dashed green lines), and then out to the internet via the wired ADSL2 connection.
Here is another example of a network map, but this time you can see that the Linux-PC, which is discoverable but not LLTD compliant, does not display on the network work. Any device that is not LLTD compliant always displays at the bottom of the network map.
Tip

You can hover your mouse over any of these computers to display some handy IP and MAC address info - very useful when troubleshooting network connection issues.


I hope this tutorial will help you to visualise your network better, and that it proves useful if you ever need to troubleshoot network connection issues.
Regards,
Golden