Hello
Currently I have Windows 7 Ultimate 32bit and 64 bit in a dual boot configuration. I installed the 32bit version first therefore under disk management it is marked as the active OS.
I want to delete the 32 bit version and keep the 64 bit version of Windows 7. I am very leery of errors and want to avoid the "BOOTMGR IS MISSING CTRL-ALT-DELETE TO RESET".
My question is.... Can I delete the 64 bit OS which is not marked as active, then boot into my 32 bit OS and install Windows 7 64 bit over the 32bit so that I end up with just Windows 7 64 bit as my main OS?
To install the Windows 64 bit over the 32 bit version I would just install the 64 bit version and then run windows cleanup to erase the 32 bit version. This way I would not have to format the partition with Windows 7 32 bit and therefore reduce my chances of getting the BOOTMGR error described above.
Sorry if this is difficult to understand but I tried...
Here is a screen shot of my disk management for reference.
PS: I was logged into the 64bit partition when I took the screen shot.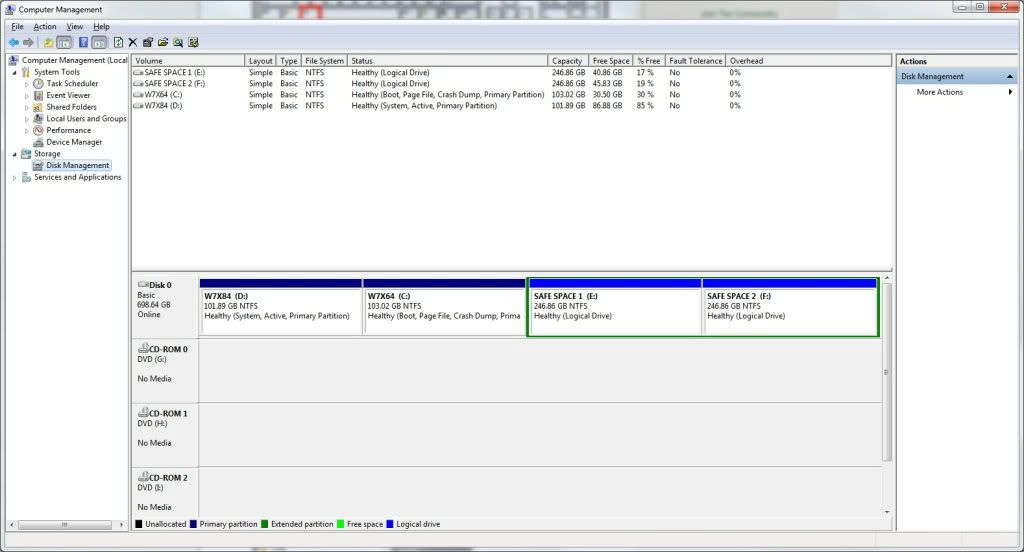 If any of you could please help me out or give insightful advice as to what I should or should not do please let me know.
Thanks!