Note
Do you often find yourself typing the same thing in different threads? Use this tutorial to create and save several posts that can be used over and over.

Information

The post template system is only available to usergroups

Guru

and above.






Creating a Template



Step 1.
Click on User CP at the top of a forum page, go to the bottom left of the CP page to Post Templates and click Manage Post Templates to get started.
User CP may be located in a different place depending on the skin/theme you're using, this is Seven Blue.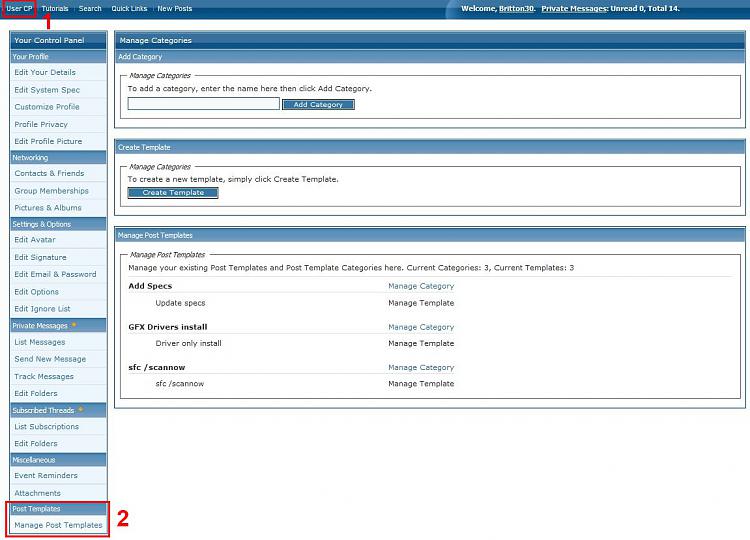 Step 2
In Add Category type in a name for the type(s) of posts these will be. In this example I have used Test but name it anything appropriate to the post(s). Click Create Template.





Step 3
The next window looks like a normal advanced posting window. At the top left there is a drop down menu where all categories you have created will be listed, select the one you need. I have other ones stored and we'll use Test created earlier.

Add a title for this template to identify it for later use. You can now create the template here just as you would to make a normal post. Links, images, or smilies can be added.




Note
To add an image to your template you will have to use the [img] tags with a link to the image. The image can be from, say, Photo Bucket or from your album on the forum



It is useful to add more info than you may need and then edit it after inserting your post in a thread. I have one for Add Specs where I can add the OP's name if I wish.

Click Save changes and you're done!


Adding your template to a post
Step 1
In the thread you want to place a template you've created you must have the advanced reply window to see your templates. Click on the
button or in the quick reply window on the
Go Advanced
button.

Step 2
When the advanced reply window is open, there is a Post Template menu in the upper right. Click the arrow and all of your categories and template titles you have created will be listed here. Click the Title you want and it will be added to the text box for you. You can edit it as needed at this time.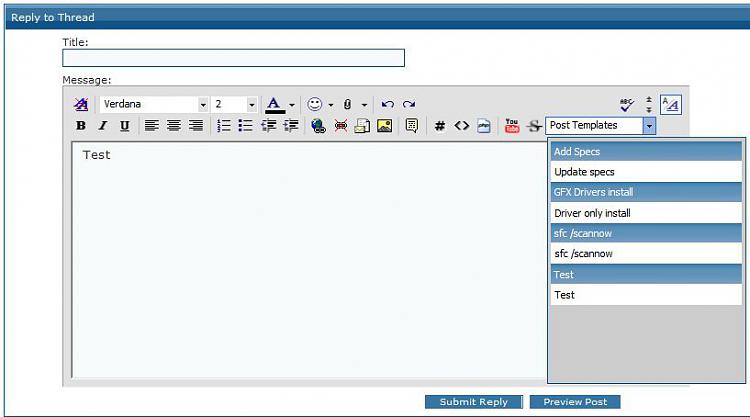 Editing a saved template
Step 1
As when starting to create a template, go to User CP/Manage Post Templates. In the window that opens there will now be listed the categories and titles you have added. Click where shown below, Manage Template next to the title you need to edit.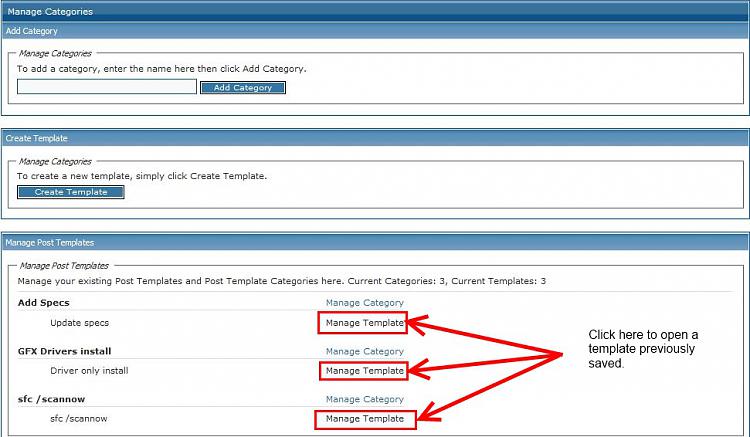 Step 2
The template will open as you created it originally and you may make any changes needed here. Click Save Changes after editing.



That's it you're done!
Thanks to Brink for help with the editing parts.


And to z3r010 for adding this useful feature.