As for any method:
Backup personal files/folders & Image all partitions
These Two methods use Partition Wizard 5.2 and don't rely on earlier versions.
Method 1 - Change Partition Type ID
In the MBR (first 512 bytes of the HDD) towards the end of the partition table are 4 bytes which define the "Partition Type ID"
In Hex
0x07 - defines a basic partition (primary/logical)
0x42 - defines a dynamic extended partition
Reference
Here is the MBR for my PC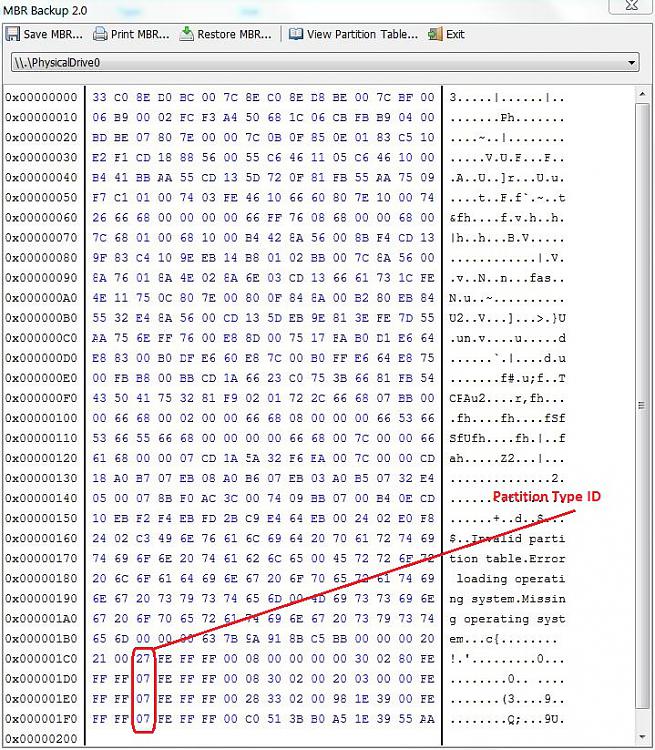 The 4 partition type IDs have been highlighted.
0x27 - Primary hidden partition (my factory recovery)
0x07 - 2nd primary partition (100MB system Reserved)
0x07 - 3rd primary partition (Boot, OS)
0x07 - 4th primary partition (Data)
Step 1 - Open a Hex Editor (
such as HxD
)
Step 2 - Select the partition entries corresponding to the type ID showing 0x42
Step 3 - Change 0x42 to 0x07.
Step 4 - Repeat for each partition up to 4.
Step 5 - Save changes in hex editor
Step 6 - Open Partition Wizard and observe partition structure
step 7 - If partitions appear deleted, use the Partition Recovery Wizard to recover deleted partitions.
step 8 - Run a "Check File System" on each partition.
step 9 - Close Partition Wizard and reboot PC.
Method 2 - Delete and Recover

Step 1 - Open Partition Wizard
Step 2 - Delete all Dynamic partitions to unallocated
Step 3 - Use the Partition Recovery Wizard to recover deleted partitions
Step 4 - Apply changes
Step 5 - Convert partitions to primary as required & apply changes
Step 6 - Close Partition Wizard and reboot PC
The general approaches have been discussed at this
Reference 2