How to Fix All Capital Letters in Ribbon Tabs in Office 2013

Information
Development team of Office 2013
have decided
to leave tabs in capital letters in Office 2013 ribbon as a part of the design.
This tutorial will show you a solution on how to turn
CAPITAL LETTERS
(UPPER CASE, MAJUSCULE) in ribbon titles in Office 2013 into
lower case
(minuscule) letters.
Note
This tutorial will work on all Office 2013 tabs, except FILE menu. FILE menu tab will stay in capital letters.
Here's How:
Open your Office 2013 application, click on the FILE menu.
Go all the way down, and click on the OPTIONS tab.
In Options window, go to the Customize Ribbon tab. In the top right coner you will be able to select whether you want to customize Main tabs, All tabs or Tool tabs.
Hightlight tab's name and click Rename button at the bottom of the window.
Now, in a small new window you can give a tab any name or just put a space before or after tabs name. Click Ok.

This simple act of renaming "Home" into "Home "
will turn capital tab name into normal case on the ribbon.
Repeat that for every desired tab.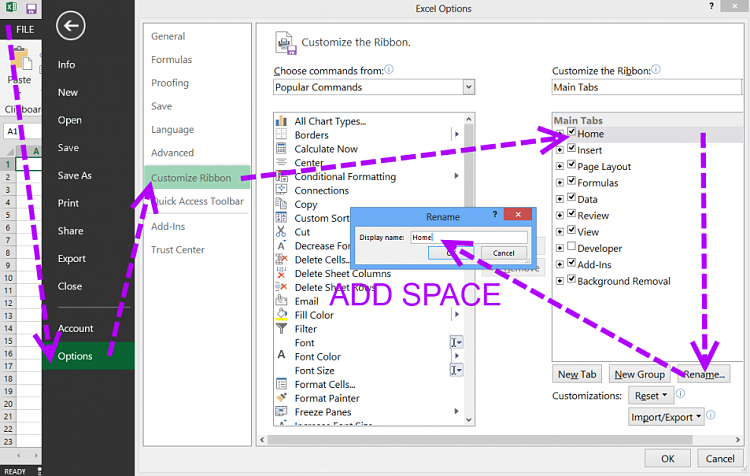 Automatic solution for English (US)
Warning
Application of this solution or uninstaller file will destroy ANY previous CUSTOMIZATION if you have done it to Office ribbon (any customized button, customized tab will be lost).
This is an automatic installer with customized tabs for Office 2013 English (US). It will turn ALL CAPITAL LETTERS to normal case in couple clicks!
Works for Office 2013 x86 or x64,
but only for Word, Excel, OneNote, PowerPoint, Publisher
apps.
Download and start
Office13_EN_FIX_CAP.exe
Related Tutorials
---