Welcome to Windows 7 Forums. Our forum is dedicated to helping you find support and solutions for any problems regarding your Windows 7 PC be it Dell, HP, Acer, Asus or a custom build. We also provide an extensive Windows 7 tutorial section that covers a wide range of tips and tricks.
Windows 7 Help Forums
»

Windows 7: Choosing a GPU - The Core Basics
Choosing a GPU - The Core Basics
A guide for making an informed choice on buying a modern GPU.
Published by
Boozad
3 Weeks Ago
Published by
There are many factors to take into consideration these days when choosing a GPU. With the myriad of hardware combinations and multiple versions of numerous cards available itís become somewhat of a minefield as to whether the GPU youíve chosen for your system will actually prove to be the correct choice.
Below weíll look at some of the major factors you should look into before purchasing a GPU as a mistake could prove to be very costly, especially when youíre in the market for a higher end GPU.

Usage:
First and foremost you must take into consideration what youíre going to be using the GPU for. Most instances of needing (or wanting) a new GPU will be down to gaming, and gamers will be looking to get the best GPU they can within their budget for the highest framerates and smoothest gaming experience. Gaming relies heavily on GPU power so this is pretty much a given.
The choice between AMD and nVidia will more often than not be down to personal preference and itís always a good idea to check online benchmarks if youíre not certain which camp you want to go with. Itís virtually always the case that AMD cards provide better Ďbang for buckí with nVidia cards weighing in with substantially higher prices, although this doesnít necessarily mean that nVidia cards automatically give better performance.
Both companies offer their own additional perks, for instance AMD have developed Mantle while nVidia offer Geforce Experience. Again, more info to be taken into account.
So do your research and decide which team you want side with.

Itís important here to understand the need for VRAM. In computing terms itís usually the case that the higher the number, the better performance. And while this remains true in regards to VRAM, sometimes that extra performance isnít needed and money can be saved from making an educated choice.
Letís take nVidiaís GTX 770 as an example; the 770 is available in two models, the 2GB VRAM model and the 4GB VRAM model. Now if youíre using just one 1080p monitor the 2GB model will be more than adequate and there is no need for the extra VRAM, it wonít be used and the extra 2GB (along with the extra cost) will be wasted. On the other hand, if youíre running a multiple monitor setup, a higher resolution monitor or a 3D monitor then the extra VRAM will not only come in handy but will be a must.

For non-gamers, it will always be wise to check whatever recommendations are made by the vendor of the software youíre planning on using your new GPU for. In some cases you wonít need a top end graphics card, and while in some photo and video editing suites GPU acceleration can be utilised it may be overkill going for a top end card when a mid-range card will be just as beneficial at a lower cost. For day to day use with no gaming, rendering or editing then lower end cards should be considered, and in some cases the onboard graphics offered by most systems will be more than adequate.

To summarise, do your homework on what you need from your card before making a purchase. Graphics cards arenít cheap and you want to get it right first time. Budget will be a big factor in determining what level of GPU you can buy and with the plethora of card out there (whether reference or manufacturer aftermarket) itís critical you get the best cards available for your money.


Note

Benchmarks and comparison sites are linked at the end of this guide.


Power:
The PSU (Power Supply Unit) is probably the most overlooked component of modern PC building. Time and again cases arise where someone has built (or bought) a system and cheaped out on the PSU as it Ďonlyí provides power. On the contrary, the PSU is one of, if not the, most important part of a build. Itís always recommended to have a quality PSU with Corsair (my personal recommendation) and Seasonic being widely regarded as the best of the best.
When looking for a GPU then you must look to your PSUís rating before making a purchase. Manufacturerís will always give power recommendations on their website so this is a pretty easy piece of information to look up. Below is a guideline for the previously mentioned GTX 770, the first shot is from the nVidia website which is the recommendation for a reference 770, the second screenshot is from a retailerís listing for a an ASUS 770 Direct CUII manufacturerís aftermarket card.




So if you have a 500W PSU you can infer from that information that your PSU probably wonít be capable of running the overclocked aftermarket card which tells you to allow for 300W just for the card. The reference version suggests a 600W PSU and these will generally use less power as they are set to stock clocks, so to run one of these cards youíd need to upgrade your PSU too. The alternative would be to look for a lower range card that uses less power.

Size:
A lot of todayís cards are absolute monsters when it comes to the sheer size of them and again this another factor that is often overlooked. Unless youíre housing your components in a full tower case you need to research whether the card you want to buy will actually fit into your rig or not.
Iíve recently dealt with just such a case over on PCHF. The OP wanted to know whether the card he wanted to buy (an MSI N780 TF) would be compatible with his motherboard. The answer to that was pretty straight forward, the card would indeed be compatible with his ASUS P8Z77-I Deluxe, and his 600W was just scraping in as man enough to run the card. However, looking at the size of the card and the specifications of his case (Fractal Node 304) from the manufacturerís website, it was a possibility that the card wouldnít physically fit. Below are the cardís length and the specifications from the case manufacturerís website. Not only is it just the case that need taking into consideration, but the card may also foul on the PSU depending on the size of it.





Another example comes straight from myself. I bought a rig last year that was to replace my old desktop rig, I didnít intend on gaming so bought an A10-5800k APU with an HD6670 GPU in a Cooler Master Sileo 500 case. After a couple of weeks I decided I wanted to game and the 6670 just wasnít up to the task, so I checked my PSU (400W) and found that the highest card it would run was an HD7850.
I scoured the market and settled on an ASUS HD7850-DC2T and bought it straight away. However, when I came to fit it I found that I had to literally force it into the case with the end of the card sitting against the HDD cage. Below are two photos of the rig, one with the 6670 fitted and one with the 7850 fitted to give you an idea of the size difference in these cards.
The higher range of card youíre going for will usually be a lot bigger than the lower and mid-range cards. Be sure that your card will fit in your case.

HD6670: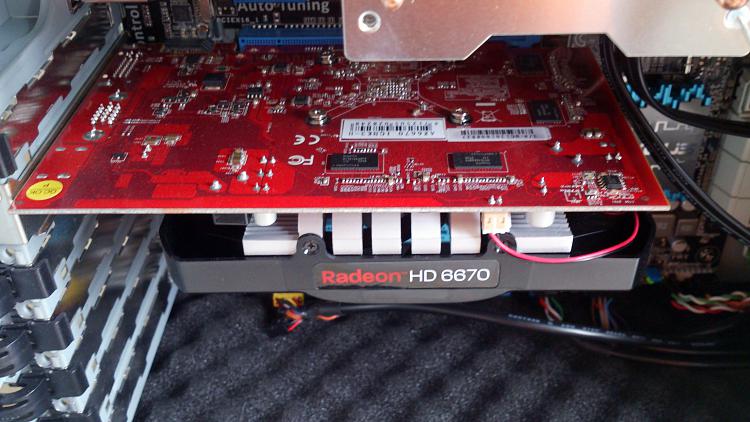 HD7850-DC2T: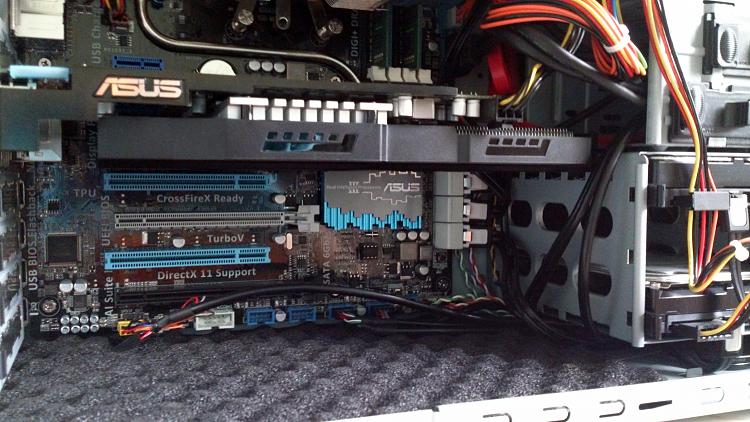 The cards side by side: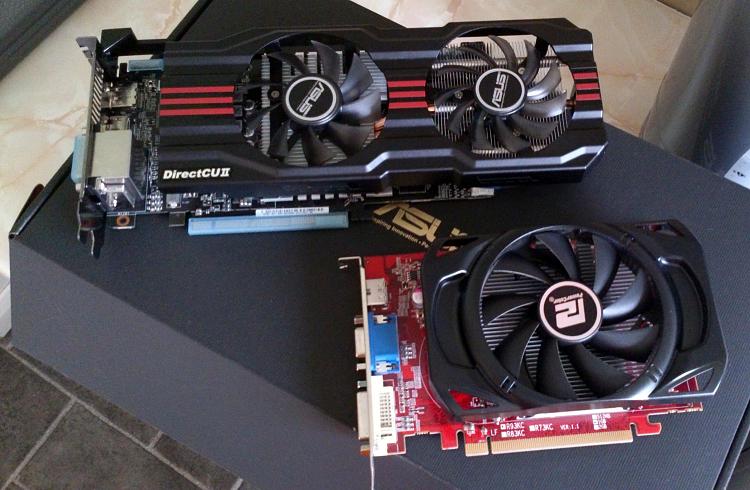 Compatibility:
Your CPU will also play a part in the choice of your GPU. Itís not as critical as power requirements or the size of the card as it wonít stop the card from working or fitting into your case, but an old CPU or lower or mid ranged CPU will bottleneck higher end GPUs. Most modern quad core CPUs will be fine coupled with modern GPUs, but older CPUs and dual core CPUs could well hold back the performance of your GPU depending on which GPU youíve chosen.
Again, itís wise to check benchmarks online for your CPU if youíre in any doubt.

All modern motherboards these days come with PCIe 3.0 as standard, and all modern video cards will be PCIe 3.0 compliant. However, if your motherboard is an older model with only PCIe 2.0 slots available, your card will still work as the interface is backwards compatible. Itís worth noting that the card will be capped to PCIe 2.0 transfer rates but it will still work.

Benchmark and Comparison Links:
GPU Boss
HWCompare
GPU Review
Video Card Benchmarks: Passmark Software
Anandtech

AMD and nVidia list of GPUs:
nVidia GPU List
AMD GPU List


3 Weeks Ago
#1




---

Thanks Gavin really good tutorial

John

My System Specs
3 Weeks Ago
#2




---

Thanks John, much appreciated mate. I've advised a fair few people on what to look for when upgrading their GPU so though a thread to link would be easier in future.

My System Specs
3 Weeks Ago
#3




---

Agreed Gav and I especially appreciated the ref to PSU's importance too - a little hobby horse of mine

My System Specs
3 Weeks Ago
#4




---

Yeah I found out about the PSU importance the hard way with that AMD rig, I'd never really used my PCs for gaming or load intensive work so a 400W PSU was always enough for me. I only had that AMD rig for three months before giving it the kids and buying my Haswell rig with a Corsair HX850-80 PSU.

My System Specs
3 Weeks Ago
#5




Windows 7 64 Bit Home Premium SP1

---

Nice Toot Gavin! This will save some time typing!

My System Specs
3 Weeks Ago
#6




---

Thanks Bob, that's exactly what I had in mind when I wrote it mate.

My System Specs
Choosing a GPU - The Core Basics
Our Sites


---

Site Links


---

About Us


---

Find Us


---

Windows 7 Forums is an independent web site and has not been authorized, sponsored, or otherwise approved by Microsoft Corporation. "Windows 7" and related materials are trademarks of Microsoft Corp.

© Designer Media Ltd

All times are GMT -5. The time now is

02:54 PM

.