Welcome to Windows 7 Forums. Our forum is dedicated to helping you find support and solutions for any problems regarding your Windows 7 PC be it Dell, HP, Acer, Asus or a custom build. We also provide an extensive Windows 7 tutorial section that covers a wide range of tips and tricks.
Windows 7 Help Forums
»

Windows 7: Microsoft Security Essentials
Microsoft Security Essentials
How to Install and Use Microsoft Security Essentials
Published by
Darryl Licht
14 Nov 2009
Published by
Introduction

Information
Microsoft created Microsoft Security Essentials (MSE) to address a very simple problem: Too many PCs today are unprotected with either out-of-date anti-malware products or no anti-malware product at all.
Microsoft says there are a number of reasons for this:
First, because many new PCs come with only a 30/60/90 day trial security solutions, some users believe they're protected even though the initial subscription period may have ended.
Some don't even activate the free, bundled solutions at all.
Some--especially those in emerging markets--can't or won't pay for security suites, most of which need to be renewed every year.
This tutorial will show you how to download, install, and configure this new free anti-malware option from Microsoft - Security Essentials
Note

The release of the

Microsoft Safety Scanner

has resulted in confusion about the available anti-malware tools provided by Microsoft and questions about when they should be used.

Read more at:

Understanding Microsoft Anti-Malware Software ~ Security Garden

If you wanted

to manually download and install new definition updates

for MSE, instead of updating them from within MSE, then see:

Install the latest Microsoft Security Essentials definition updates - Get the latest definitions - Microsoft Malware Protection Center




Quote:

There's been a lot of interest in Microsoft Security Essentials and I think it will prove quite a hit with users. It's free, effective, lightweight, and quiet and is, in other words, exactly what I'm looking for in a security solution. And it comes with no strings at all. As long as you're running a genuine Windows version, you can install this product without worrying about up-sell advertisements, yearly renewals, or other silliness. And you can do so on as many Windows-based PCs as you own. I'd like to see it just included with Windows, but what the heck: Free and easy is the next best thing. Microsoft Security Essentials is highly recommended, to all Windows users.
--Paul Thurrott
September 29, 2009



Installation

First visit Microsoft's site devoted to all Security Essentials related material: http://www.microsoft.com/Security_Essentials/
That link may fizzle out over time, as MS likes to meddle with their websites often, if it dies... you can always google security essentials!

Once you arrive at the MS Security Essentials webpage, look for the "Download" button, and click it to start the download. See below:


Once your download starts you will be presented with the infamous; "what do you want to do with me now" dialog box. You can Run, Save, or Cancel. For the purpose of this tutorial, I'm hitting the easy button
and going with RUN. See below:



Information

On my PC's I always choose SAVE first, and save to the built in downloads directory before I RUN and install any app. That way, I have an easy backup of any additional apps that I've ever been installed. Then if needed I don't have to search all over the Internet to reinstall them!



Now you will see the first of several install screens, as always click Next to continue.


Don't forget the 500 word legal mumbojumbo we never read... click Next to continue.


Warning
Part of the installation involves MS validating your copy of Windows 7 as Genuine, so if you have a hacked, cracked, or jacked copy... sorry no free anti-malware for you!



This is the part of the install where your Windows 7 install will be validated, choose Validate to continue.


This portion of the installation is where you are warned that other anti-malware may interfere with the operation of MSE. Click Install to continue...


That's it... well almost! Once you click Finish, MSE will automatically connect to the MSE server and download the latest definitions...

Note
If you leave the check mark in the box marked Scan my computer for... MSE will also run a Scan when it completes the definition updates


Warning

It is always advised that you run a scan after installing any anti-malware!



Below is a screenshot of the Update Install process:


And the automatic scan after update completed:


Scan nearly complete after 8 minutes below:


Scan complete:


Your New MSE Interface

As we saw in the image above, when you are on the Home page of MSE, you have the option of scanning the PC in either Quick, Full, or Custom modes.

Naturally, the Update tab contains all the tools you need to keep your anti-malware definitions up to date.


The History tab will show you any detected and/or potentially harmful items, and the action taken on each item. It will also give you the name, alert level, and date.


The Settings tab is where you can change the way MSE works for you. You can schedule scans, change defaults, or turn real-time protection on or off. You can also exclude locations, types, and processes, etc. We will discuss the various changes you can make in the Configuration section below:


Configuration

The following section outlines the various configuration pages available in MSE, and what settings those contain.

Note

For most users, the default settings for MSE are recommended!



On the image above you see the first page of many MSE configuration pages. It contains all the settings you need to change anything scan related... these screenshots depict MSE in it's outta the box or default mode.

Below you see the Default Actions settings page where you can change what MSE does when it detects a possible malware.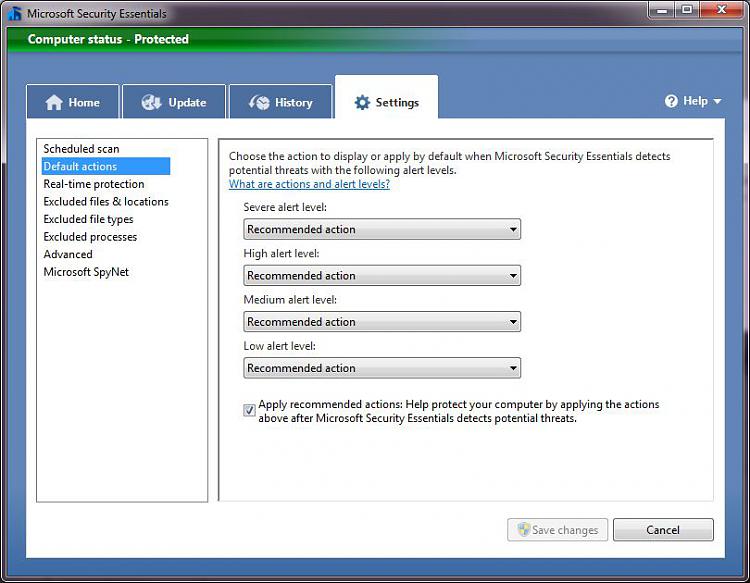 Here we see the Real-time protection settings... it;s on by default for a reason!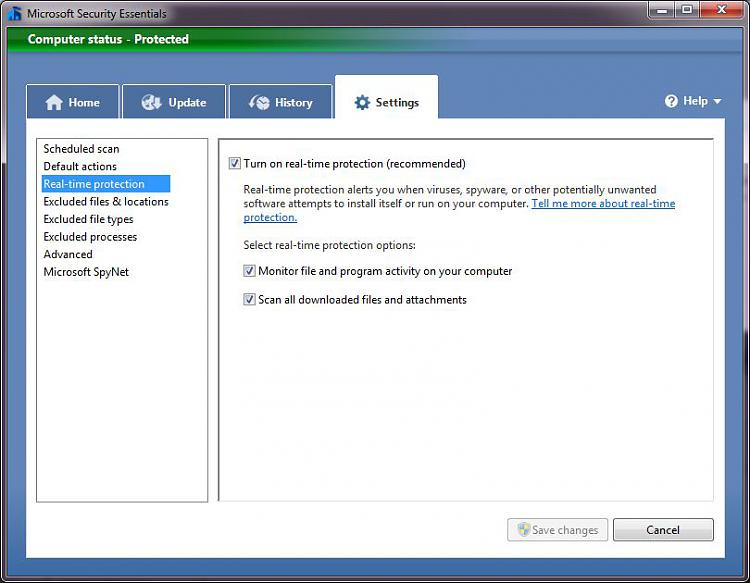 If you wish to exclude certain files or locations you can do so here:
Warning
You are advised that while this may speed up scans it may leave your PC less protected.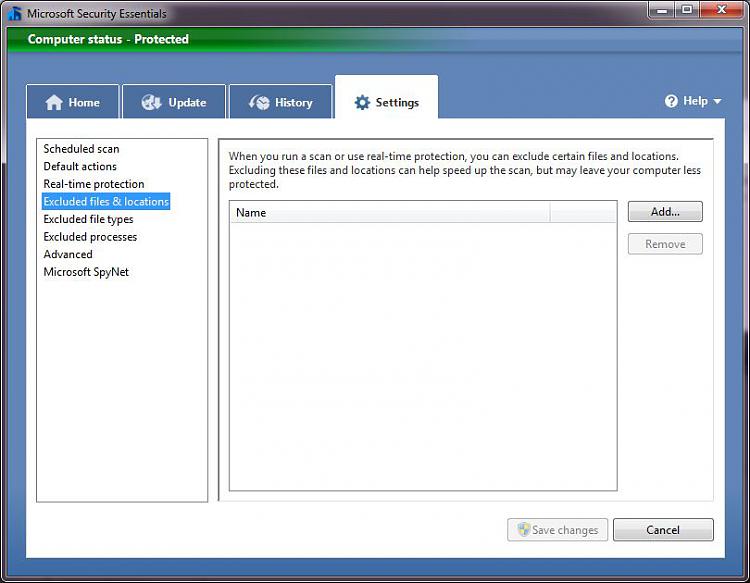 Similar to the above settings this section below allows you to exclude certain file types from a scan.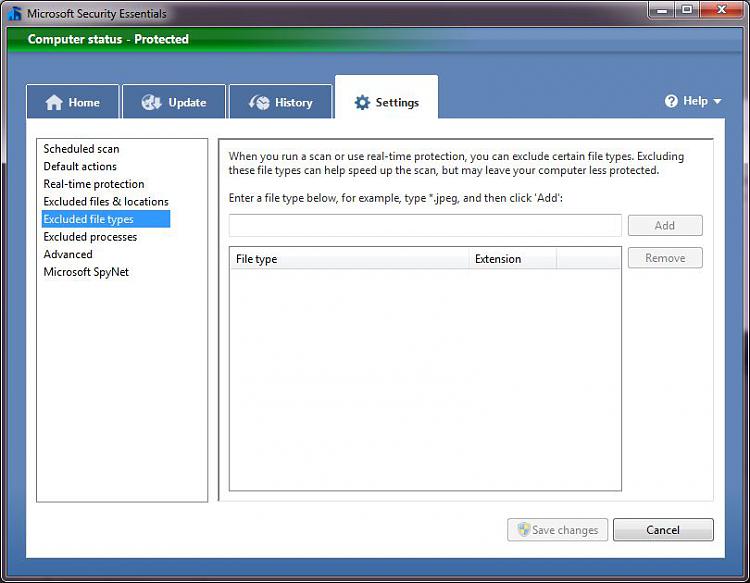 And this page lets you exclude processes such as: .cmd, .bat, .pif, .scf, .exe, and .scr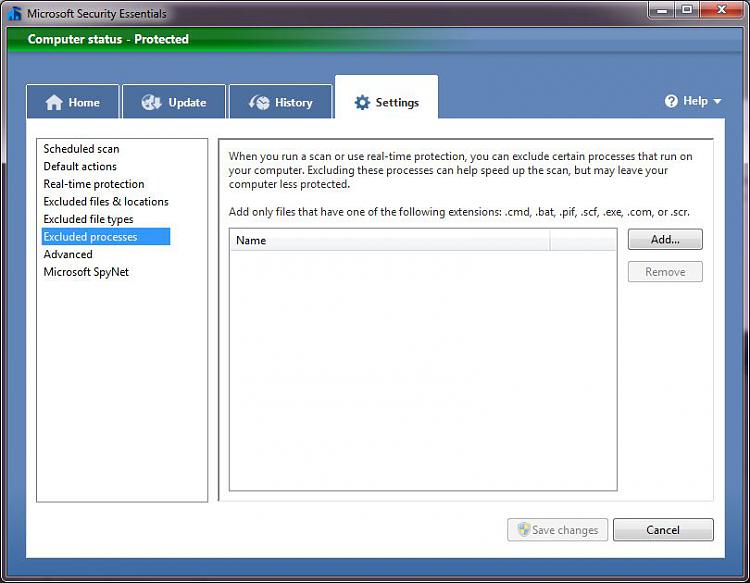 The Advanced section allows you to scan archive files like .zip and .cab files, scan removable drives, create restore points automatically, and give you access to the History.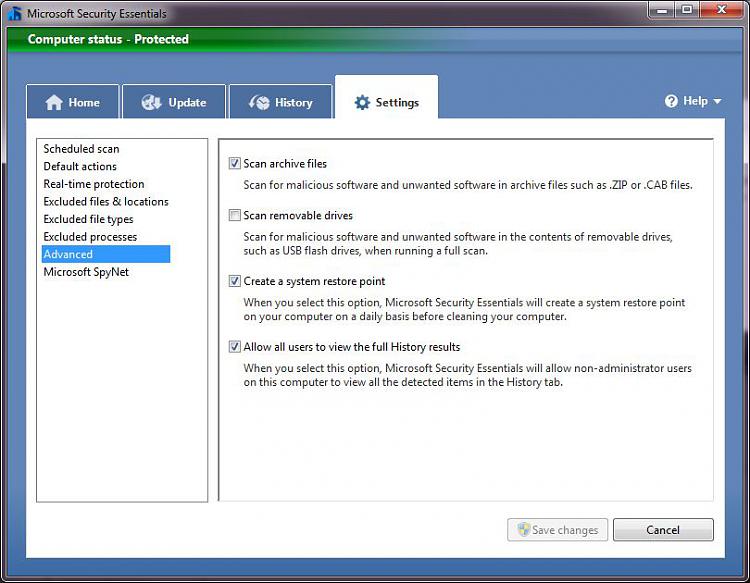 SpyNet is Microsofts online community that helps you choose how to respond to potential threats and helps prevent the spread of new malicious software. The last page allows you to choose your level of participation in this community.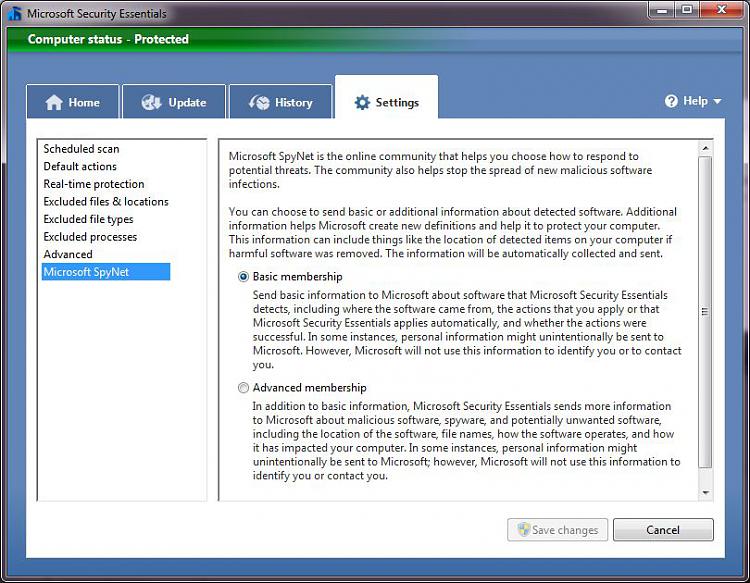 Oh yes, when you have installed MSE it places an icon on your desktop and an icon in the notification area as shown below. You can access any of the configuration pages by double clicking on either icon.



14 Nov 2009
#1




---

Attachments not working dude.

My System Specs
14 Nov 2009
#3




---

Now its working. Nice tutorial. +rep.

My System Specs
14 Nov 2009
#4




Windows 7 Home Premium x64 - Mac OS X 10.6.4 x64

---

Nice tutorial and well done...

My System Specs
16 Nov 2009
#5




---

thanks for the tutorial, been using it for the pass two months and its pretty damn good.

One question though, is there any way to make it so it auto updates its definitions?

My System Specs
16 Nov 2009
#6




64-bit Windows 8.1 Enterprise

---

Hello Mortred,

You can set Windows Update to install updates automatically with steps 1 and 8 in the tutorial below. This will allow Windows Update to automatically download and install MSE updates as well.

Windows Update Settings - Change

Hope this helps,

Shawn

My System Specs
16 Nov 2009
#7




---

Yes, MSE can be set to update the malware definitions automatically and that's the default setting... I will finish the confiuration portion of the tutorial this evening!

AS you can see in the above image, if you have your MSE set at the default perform a scan automatically, it will first update definitions before doing so.





My System Specs
24 Nov 2009
#9




Windows 7 Ultimate x64 SP1

---

It works on 64 bit. Pick the appropriate one from the download link.





My System Specs
Microsoft Security Essentials
Our Sites


---

Site Links


---

About Us


---

Find Us


---

Windows 7 Forums is an independent web site and has not been authorized, sponsored, or otherwise approved by Microsoft Corporation. "Windows 7" and related materials are trademarks of Microsoft Corp.

© Designer Media Ltd

All times are GMT -5. The time now is

06:21 PM

.