To Tuckinrimins10 re:
Quote:
A admin pm'd me them last time but my pm's were removed some how. I tried what you sent me but was unable to get it to work.
When importing a 32bit Vista WinMail to a 64bit Windows 7 OS, it is essential to delete the entire original 64bit Windows Mail folder from the 64bit Program files,
after first making a back-up copy
.
Then import the
entire 32bit Vista Windows Mail folder
, not just the
msoe.dll file
.
And
it must be imported to the 32bit Program files in Windows 7, which is named Program files (x86)
, as can be seen as in this picture, which can be enlarged by clicking on it.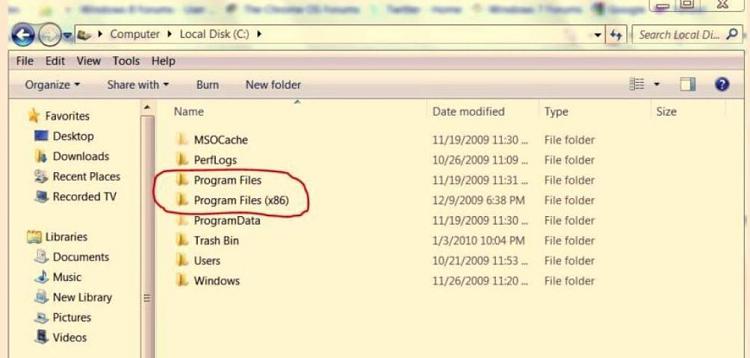 This means you will have to take ownership of
every file
in the original Windows 7 Windows Mail folder to be able to delete them. I found that Take Ownership worked with single files, but not with folders. So I had to take full control manually as shown in Footnote 2 of the guide.
Also, you will still need to do all the other steps of running the download regedit file
WinMailEdit.reg
; removing the attributes with the
Run command: attrib -s -h WinMail.exe
, etc.
Good luck, PB