Ever since the security update "borked" the msoe.dll, I am having a strange problem where the same message is showing up in both my inbox and junk mail folder. The full content of the message is visible in the junk mail but the same message appears in the inbox with a message in the preview pane that "the content of this message cannot be found". My Junk E-mail option is set to "Safe List Only" and "Also trust e-mail from my Windows contacts". I have three Windows 7 PC's running Windows Mail and all have the same problem. Anybody else having this issue? Screenshot attached.
A. It might help to clean out your "Local Folders" folder in AppData.
1. Save all emails
2. Show hidden folders by opening any folder --> Task Bar --> Organize --> Layout --> Tick: Menu Bar
--> Task bar --> Tools --> Folder Options --> View --> Dot: Show hidden file, folders and drives --> OK.
3. Start orb --> User Name --> AppData --> Local --> Microsoft --> Windows Mail -->
Local Folders
4. Delete
all
folders and files in the "Local Folders" folder, except the Accounts files. That is, delete Inbox, Sent Items, ete. The following is a pic of Local Folders. The alpha numeric code in the accounts shown has been replaced with crosses for security reasons.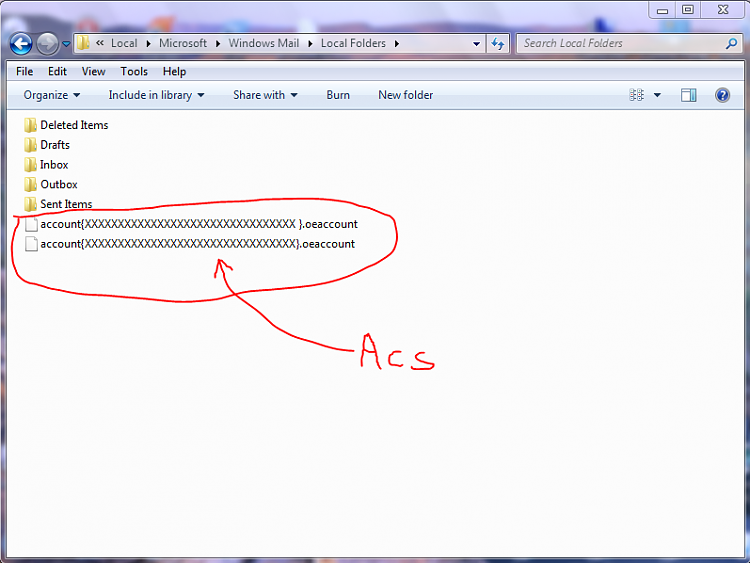 Deleting these folders will not remove them from your WinMail file in Program Files. Next time WinMail is run again, a new set of folders will appear in Local Folders.
B. Also read this post
here
.
C. The other suggestion would be to make sure you have the lastest updates and Service Packs installed. As pointed out in a Microsoft article found
here
, this was an issue with Vitsta until the latest Service Packs were installed. There is a specific KB update listed in this MS article to deal with this problem.
D. Finally, download, extract and run the attached program:
Repair WinMail Database.zip
. It is a small program
WMUtil.exe
which repairs the WinMail data base.
Hope this helps. Cheers PB