Thanks to Barefoot Kid for originally posting this thread more than 3 years ago and to Brink and all who have helped afterwards. Glad its still alive.
I just recently made the switch to AHCI after forgetting to reset my bios after a reinstall of Win 7 a couple of weeks ago. All went well or so it seems.

I only have one sata2 wd 500gb HDD and one sata DVD drive.
The bios screen now shows that the AHCI bios
driver
is loading and finding devices. So thats good. But in the windows Device Manager. I have a couple of yellow ! marks on some of the ATA channels. If I look at their properties it says
"This device cannot start. (Code 10)
" (see picture).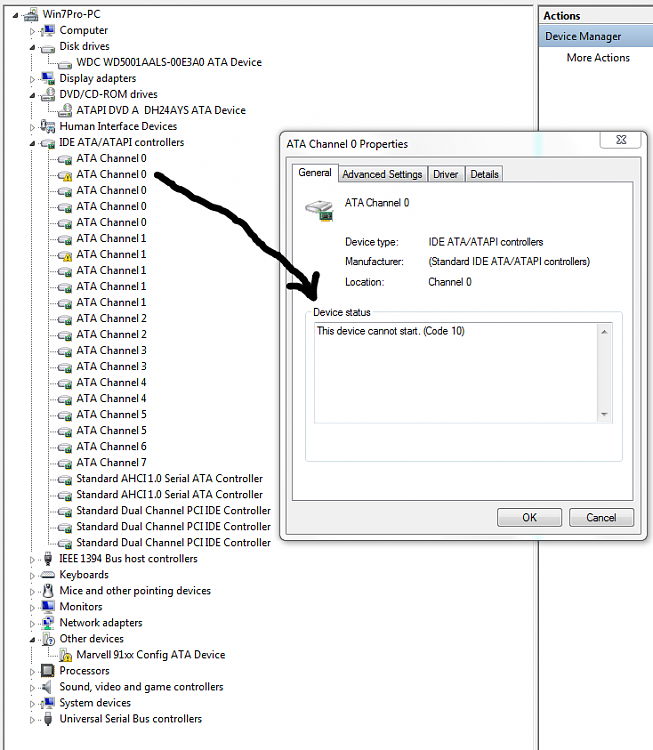 What concerns me is that there are 5 channel 0's, 5 channel 1's, 2 channel 2's, etc. Why so many channels? Why is the yellow! sign only on two of them?
I know why there's a yellow ! sign next to the Marvel 91xx device. Its because I don't have a RAID and never installed a device driver for that controller.
Here is a pic of my Gigabyte MB page with the SATA connector layout.
My computer seems to work fine, but why the yellow !'s?
Maybe after going to AHCI I need to install the Marvell
drivers
even tho I'm not using those connectors?
I'm stumped... any thoughts would be appreciated.