But in your 1st picture in this post there once was "elevated" in the elevated command prompt's title.
Anyway what do you think?
Should I just stay with the annoying UAC on and use elevated command prompt (without elevated in the title) or is it good enough to use the probably elevated (chkdsk /? ran ok) command prompt that has "Administrator: Command prompt" in the title?
BTW, I went back and disabled UAC disabled and checked "Run as administrator" option in the command prompt options and found that if I'm running the command prompt from a shortcut with or without right click --> run as administrator it is looking as before:
But if I'm running it via start --> run --> cmd or via "CTRL+SHIFT+ENTER" after I'm typing cmd in the start menu search bar I'm getting a command prompt with "Administrator: C:\Windows\system32\cmd.exe":
So the title depends on where and how you started the command prompt.
Anyway I'm truly believe that the command prompt it elaveted. I only wish I could get to the mode in which the word "elevated" shows in the title - just to be sure.
EDIT
OMG I got it.
I decided to start to read this post from the begining because I thought I must have missed something - AND I DID!!!.
In the begining of this post, In step 1, you posted a link to another post:
Elevated Command Prompt Shortcut
.
I bypassed it because I didn't wanted a made shortcut.
Anyway I decided now to try and download it, but suddenly I discovered another tutorial from you. In this tutorial you wrote:
NOTE:
You can type in any name that you would like to use for the shortcut though
.
So I did it:
It is just a title. That's all. And as for the path - this is the "start in" property in the command prompt properties that should be configured to "C:\Windows\System32".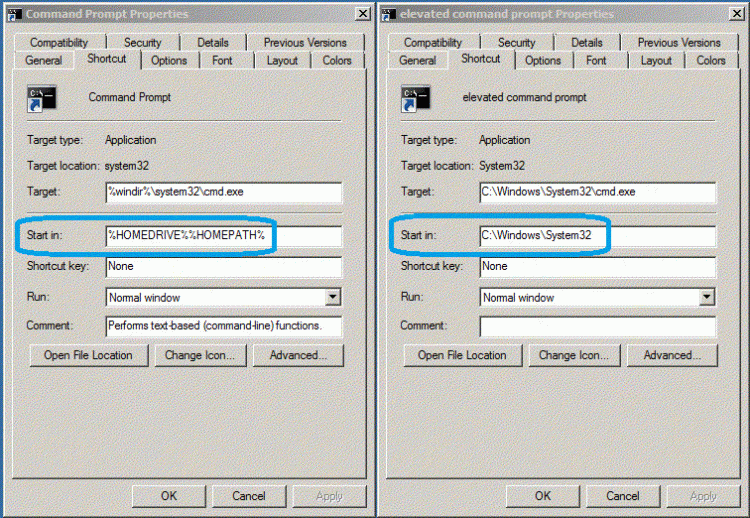 On the right is my old shortcut, where "start in" is configured to the user profile home folder (in my case %HOMEDRIVE%=C:\ and %HOMEPATH%=\Users\need4steer - which makes C:\Users\need4steer).
On the left is the shortcut I created as shown in your other tutorial -
Elevated Command Prompt Shortcut
, and which I configured with the title "elevated command prompt".
So, Correct me if I'm wrong, but I think I finally got it:
The title could be whatever you want.
The "start in" property too.
It's running it as administrator in one of the methods mentioned at the head of this topic that makes the command prompt elevated, and it is elevated because the administrator user is running it.
And to sum it, the one symptom that is matters and ain't modified through all this topic is that the elevated command prompt should have "Administrator:" in the begining of the title - which indicates that the administrator user ran it.
Thanks a lot for your help and effort.
And I'm sorry for post #10,
Elevated Command Prompt
, in which I suggested method 2. I didn't saw that on your other turotial. I edited it with credit.
ZaLiTH, thanks a lot to you too. Appearantly you'll arrive to work and see that we figured it out somehow...