Good Morning All,
After finishing the installation of XP, it booted up, but was unable to connect me to the internet. "No modem, etc." As I have a D-Link router connected to a DSL router, I needed to go into the properties via Windows 7, which I could not boot to. I tried the only disk I had from Dell with the new computer, but it was just for the monitor. Dell's "Setup guide" states under "Starting Diagnostics from the
Drivers
and Utilities Disc: NOTE: Drv and Utl disc may not ship with your computer". How nice!

While not relishing the deep dark hole of dealing with someone from Customer Service, they surprised me and sent off both the Drv & Utl and Win 7 disks, FedExing them to me overnite!
Booting from the disk, I was able to get to the Command Prompt and run the fixes in the Tip of Step 6, and Windows 7 booted up as it had in the past.
In running EasyBCD, I found that it is a newer version 2.1 than the pics you have posted. Please note that they have changed "Bootloader Setup" to "BCD Deployment". Here is a screenshot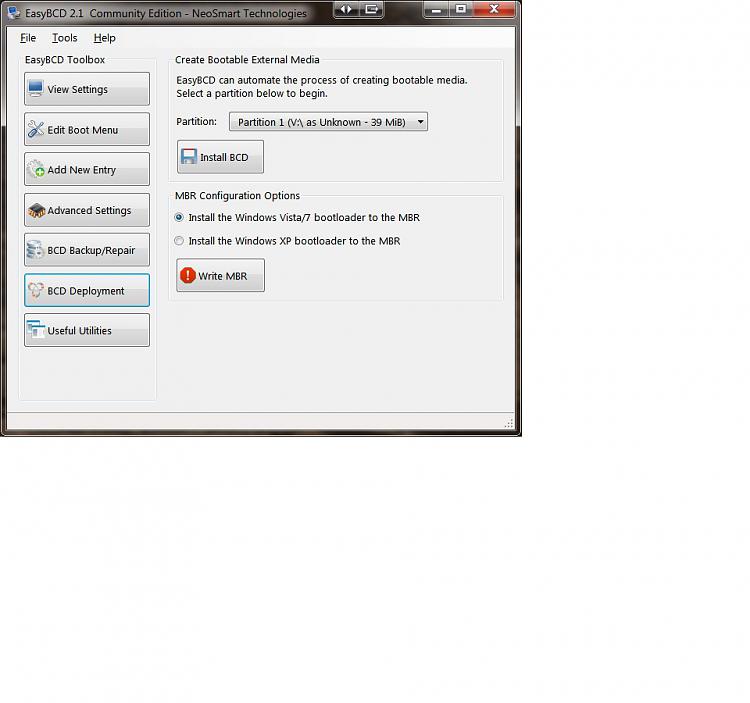 At this stage, I can boot up to WinXP, but will need to get drivers for the Ethernet that I use. Will let you know if I encounter any other problems.
If not, let me thank you all for your great help. Your collective knowledge is vast, but what makes you all Geek Heros, in my book, is that you are willing to give of your time to walk those-of-us-without-a-clue through the process. If the rest of the world worked with this kind of selflessness, patience, and willingness to help others in distress, what a fantastic world it would be. And BTW, Microsoft OWES YOU BIG TIME!!! Without you they would not be selling so much software. (A case in point being the Help files of Office. Ask a simple question in Word and get nothing relating to the keyword, plus much that has to do with Excel, Access, et al.)
I would also like to compliment the Ladies and Gents who have set up this Sevenforums website. It is actually easy to use, navigate, etc. I do believe that before I die, I will see a computer and internet that is truly "User Friendly"
Thank you muchly