Okay, I've finally decided how to setup my User Folder (on C:/ aka FlyingDutchman) and data (D:/ aka The Chest)- symlinks. More on those folders after this is taken care of.
So, I followed pparks1 pattern from "
Advice/help with my backup strategy"
(not my thread), and right now I have 2 image backups done. I'm trying to test them.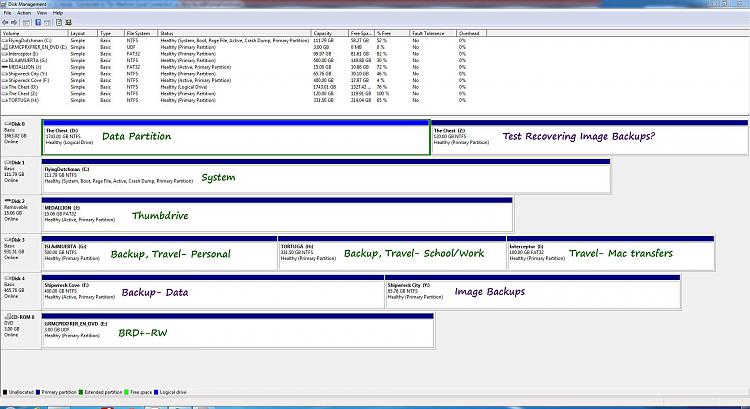 (I wouldn't mind altering the purple-labeled ones.)
#1 I created on external Maxtor OneTouch 4, partition aka Shipwreck City(Y:/), via firewire. This is just the plain OS, activated, with all updates.
#2, for fear of the 30% rule, I created on my internal data partition, aka The Chest(D:/), and moved to Shipwreck City(Y:/). This one has all of my drivers installed and configured.
Now I would like to test them...
Tries thus far:
A.
I tried testing in VMWare player, on a 40GB virtual machine located on C:/. I remembered later that I would have to make a virtual machine at least the size of my C:/ drive. (~118GB).
Will I be able to test this image on a virtual machine if I create a virtual machine on The Chest D:/ or partition Z:/ that is the same size as C:/?
B.
I tried rebooting to the install DVD & installing the image directly to Z:/. However, I couldn't get Windows to let me choose any backups from Maxtor/Shipwreck City(Y:/) (firewire). My only option was the #2 image I'd initially created on The Chest(D:/), (but later moved to Maxtor/Shipwreck City(Y:/)) as the folder WindowsImageBackup. I found & tried to load the drivers for the Maxtor OneTouch, and could see the hard drive listed & could explore it. But any drivers I tried choosing failed. I even tried picking them out of my DriverBackup backups.
Since installing from an image backup on an external hard drive is such a good idea, why won't this work for me?
C.
Haven't tried this yet, but another idea I have would be to
split TheChest(D:/) into 3 partitions: Data, Image Backups, and a testing partition (virtual or real?).
(Currently the Image Backups are on firewire external Maxtor/Shipwreck City(Y:/).)
Which of these can/should I do? (& maybe how...?)
Just looking for a convenient place to save image backups to (since moving them takes forever!), that will also be easy to use to recover from.
I am using Windows Image Backup.
Thanks in advance =)
P.S.- Think I'm a PoTC fan much lol