Acronis 2012 is out. I decided to go ahead and upgrade, since I was still using 2010.
The interface looks good, but I find it more difficult to find what I want.
For example, in 2010, Disk/Partition backups were in seperate areas of the UI.
By simply pressing the Files/Folder tab I could see just those backups.
2012 groups them all together on the same screen. You can sort them, by Type, date created etc, but it seems to be a bit buggy.
If I add a backup that was made by 2010, it automatically puts it at the top of the list regardless what sort method is used.
And sometimes, it just decides to organize them however it decides to.
Here is the main BackUp/Recovery Screen. (Bit empty right now still testing)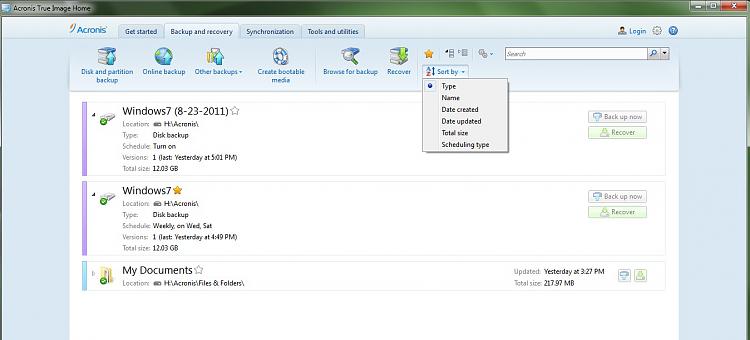 You can back up Files and folders by clicking the "Other BackUps button which also offers, email backup and Non-stop Backup options.
This bothers me a bit, because in 2010, if I wanted to back up a single file or folder somewhere, I could simply right click the file or folder and choose BackUp.
This option is no longer in the right click context menu. You must launch Acronis directly to get to it.
IMAGING:
To start A Imaging task, you just press the Disk and partition backup button.
By default, its set to Incremental and Single Partition. Single partition is only the C Partition Windows is installed On.
You can also choose multiple partitions if you want to or, a Full disc image (my prefered method)
You can cycle through the modes and check the partions or discs you want to back up.
Perhaps Its just me, but I found 2010 to be a bit more user friendly when setting backup options.
Also, for Desination, you can not set a default destination as in 2010. You must choose it with each new back up you create. Unless Im missing something here.
There are also Cleanup options (how long to keep, Consolodate etc) as well as a Schedule that can be set.
Acronis also will integrate onto the Control panel.
When you go to Control panel / backUp restore, you will find Windows BackUp has been disbaled and replaced with Acronis.

This wouldn't be such a bad thing, if it worked. It's been nothing but a headache.
Notice the Date and time of the test images I ran?
Also, the options to the right do not work. If you attempt to open the location you get an error.
You can however, launch Acronis from here by Pressing the Disk Partiton backup button at the top.
It also has the typical Tools and Utilities from previous versions: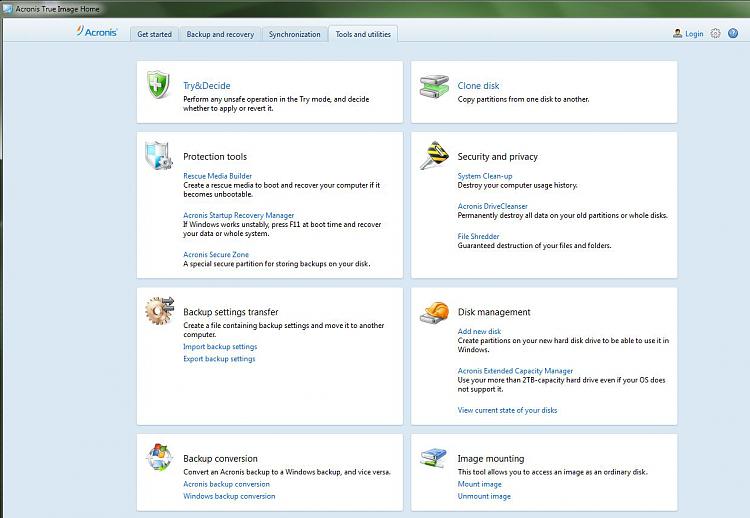 Theres also a Sync option, which I think uses the Online backUp??? Im not sure about this as I have yet to test it out.
Overall, the 2012 version looks OK. But it is a bit buggy. It tends to freeze and crash sometimes over the most simple of tasks.
Deleting the task log for example will cause it.
So, my thoughts overall about it are pretty simple.
Personally, I find the 2010 version to be much more user friendly.
Its easier to organize everything & find what you're looking for.
Also, advanced options are much easier to set in 2010 vs 2012, its stable and reliable.
Im sure these issues in 2012 will be resolved after a few updates, but for now... best to pass up until it is.
Its still buggy ATM, and that is NOT something you want from the app thats handling critical BackUps.