I usually take my backups running the Paragon Advanced Recovery CD ISO (Win-PE based;provided with Paragon Hard Disk Manager Suite 11) from a multiboot pendrive and write the image to another partition in the internal drive. Later I copy it to the Maxtor external drive.
Today I tried to backup my C drive directly to my external 300GB Maxtor One Touch II hard disk. To my chagrin, the external drive would not show up. The program would try to recognise it but after 5 minutes throw up the error message
" I/O error on hard disk Drive 1 has occurred. The hard disk read or write operation has failed. This may be due to hardware problems. 1.Retry the operation 2.Ignore the error - the prog. might work incorrectly or your data may become corrupted in this case. 3. Ignore all errors - the prog. might work incorrectly or your data may become corrupted in this case."
Click on 2 or 3 the partitions on the Maxtor External drive will show up on the drive map but as "not formatted" So I cannot write the image onto it.
I then connected my Seagate GoFlex USB external hard drive which showed up without any problem.Wrote the image to it.
Now back to the Maxtor External Drive. Windows 7 and the Paragon HD Manager run from within Windows 7 could see it and read or write into it. Screenshot below.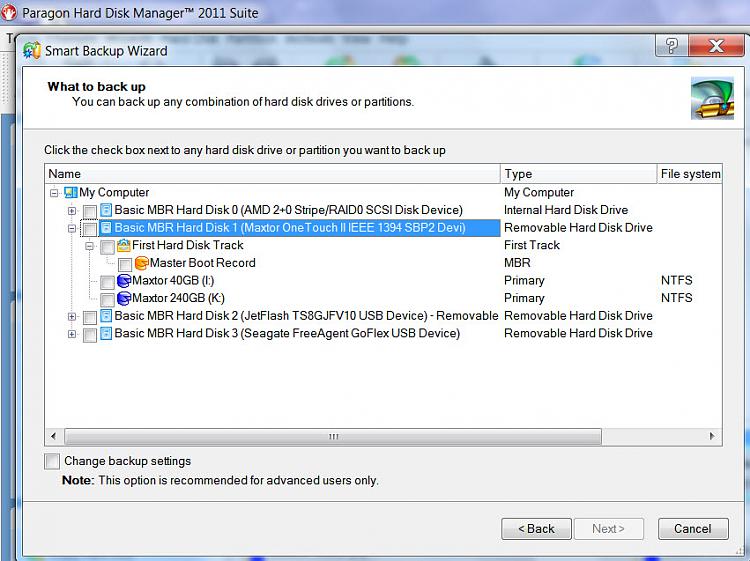 I have been using one partition in it to back up my data using SyncBack. No problems. The other partition contains the periodical back-ups.
Anyway alarmed that it may be on the brink of giving up, I copied all the 150GB of data into the Seagate external drive and proceeded to check the Maxtor with Seagate Seatools for Windows.
Running the Long Generic Test for almost two hours, it finally said "Passed". No bad sectors at all. (The long Generic Test can find the bad sectors and repair, if possible, for external drives. To find and repair bad sectors in the Internal drives, one has to run the SeaTools DOS version)
Now the question is Why does my Maxtor drive fail to show up when I run the Recovery CD? What should I do?