I tried the solution you suggested in No 5, but it did not work (the fact that the recovery files are for WIN 64 bit while my laptop is 32 bit only might have to do with it, or worse - my HDD on the laptop is a "goner" - the laptop was sluggish and I could not get rid of some software that came with a hadrare product), trying to boot from USB nothing happened for some time and eventually BOOT MGR missing message appeared. And that was the end of operation of my laptop, it wonŽt boot (BOOT MGR MIssing every time I try to boot) and even the recovery discs do not help - they start to work, but after some time a message "Image Failed" and then again Bott Mgr Missing.
So, having no PC at all, I resorted to a desparte step - loaned a bootleg WIN 7 64bit DVD from an acquitance and installed it on my "erroneously reformatted" HDD machine and IŽm using it right now. I tried the step described in No 8 answer, making the part active and showing hidden files worked, but then I found out that there was not enoguh space on the 8 GB USB I have (only about 260Kb space missing to get the recovery files on it!) so IŽll have to get a larger capacity USB before I proceed, this may take some time. By the way, you are right, the Sandisc is a sort of combined pendrive/dvd drive, it shows as such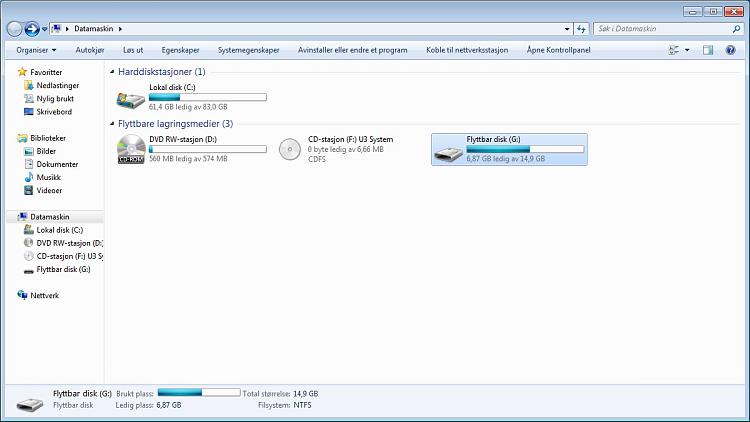 IŽll have to leave the recovery of my HP PC for the time being and will return when another USB is in my hands. By the way, I checked the recovery didcs from Hp only to find that they were NO longer in stock, so IŽm really stuck here and my only hope is that transfer of the recovery files from my Sandisk Pendrive/DVD combined stick to a regular USB stick really works.
However, as I have another problem on my neck - my laptop refuses to boot now with the BOOT MGR missing message- any ideas how to remedy this (Manufacturers recovery discs do not work) or find out if its HDD has "gone with the wind".