Familiar interface.
Support for ext4 and Apple fs. Also included p2v and p2p functions. Supports GUID Partition Table (GPT)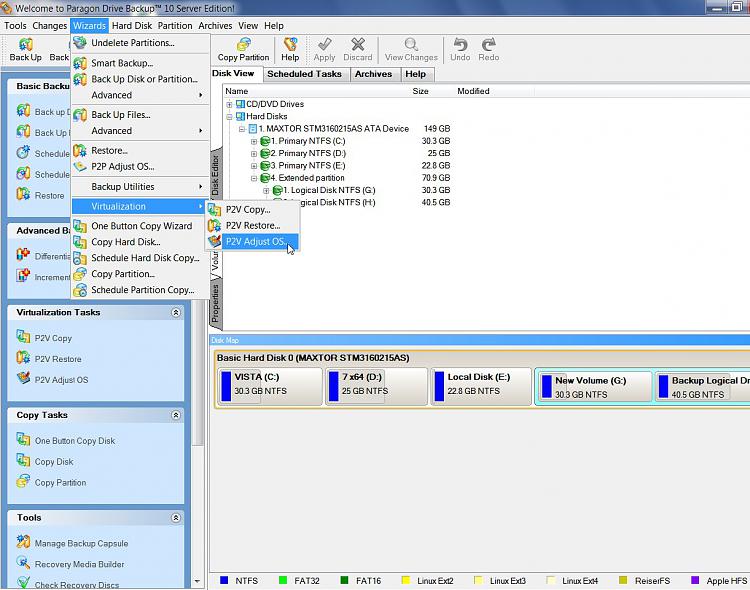 Takes a few secs. for the program to start as it enumerates drives and loads up.
Quick test:
Previously, I had compared DB9 and Macrium Reflect.
Imaging the same source to the same target.
Reflect took 6min 30 sec cpu usage around 22%.
DB9 took 13 mins cpu usage around 11%.
Twice as long - but to be fair cpu usage was half, so efficiency similar.
New test - DB10 vs Macrium Reflect. Same source and target for both apps. obviously.
Reflect took 6min 2 secs.
DB10 took 10 min 14 secs.
Not as fast as Reflect still - but a noticeable increase on DB9. No noticeable increase in cpu usage - perhaps up to 12% on average.
The help file is fun :
P2P Scenarios
Making system bootable on different hardware
Let's assume you had to migrate to a new hardware platform. You just connected your system hard disk to the brand new PC and tried to start up the operating system - you do know for sure now that this operation had been doomed to failure from the very beginning. With our program you can easily tackle this
naughty
problem.
LOL.