Just released the best FREE backup app. ever.
This deserves a new thread - with so many now installing a new o/s and/or dual booting, there is an even greater need for reliable backup solution.
Paragon Backup & Recovery 10 Free Edition :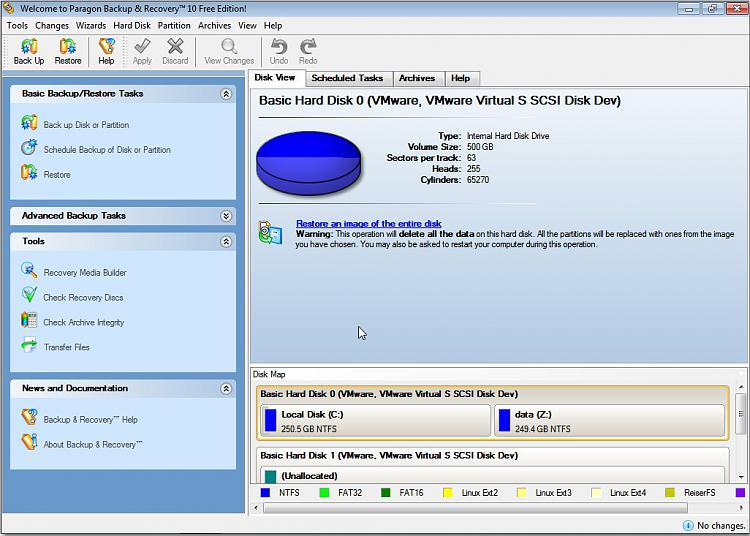 FAT, NTFS, EXT2, EXT3, EXT4, APPLE filesystems.
* Support for the latest Windows 7
* Complete Backup - Create an exact copy of your PC including the operating system, applications, user settings and all data. Or select individual drives/partitions to backup.
* Differential Backup - backup only the archive changes
* Backup Scheduller - plan your regular backup
* new Support for all existing backup techniques, including disk and file level backups with differential or incremental updates
* new Any backup destination - including external storages, CD/DVD/Blu-ray discs, network as well as the secured hidden partition (Backup Capsule)
* new Automatic data exclusion - automate the process of building up contents of the future backup image, by excluding irrelevant data such as movies, music, etc.
* Support for GPT (GUID Partition Table) disks - back up and restore not only single GPT volumes but entire disks with the option of resize during the restore operation
32 Bbit and 64 bit program available:
Free Backup Software - Download Backup & Recovery
Free product key link:
http://www.paragon-software.com/registration/dbfe.html
screenshots:
Free Backup & Recovery Software
features:
Free Backup - Backup & Recovery
Afaik, this is the
only
always free backup image app. which includes Full and Differential imaging, as well as a range of scheduling options.
Run off the bootable disc from within the program straight away - it prompts you to do so.
The boot disc contains the features of the program in bootable form.
Other free programs can be forced to go faster ( by increasing cpu usage) - none of them include all these features. I have always found the Paragon image products completely reliable.