Hi everyone!
Thanks for all the prior assistance!!!
Now that I got Macrium (standard paid version) downloaded and installed.....
(see my prior discussions of how this was done on::
Macrium etc Free Software--How to avoid CNET Virus/Adware/malware prog
and
Need a new Backup & Storage program
I need help in using it for the first time....
Yes, I'm confused........
Yes, as first time is the most critical saving time....
If I do NOT make the right choices..... what happens next is not the fault of the program as the computer will automatically follow whatever commands I tell it to do.....
INCLUDING!
Copying from the Empty External HDD back over and replace the "not saved for one year!!" Original HDD inside the Laptop!
That is not the direction I want the backups to be made in...
Again (to beat a dead horse----I know mjf sounds like your "broken record" phrase too), I do not have instant phone help with Macrium, where someone can walk me slowly... carefully through the various menus until I get the hang of it (not just once I usually need several calls to get it right and committed to memory or notes that I can read and follow)
Yes I read the Macrium online manual a few times...
Yes I saw whs? or who he directed me to view, You Tube video a few times.....
Somehow its not what I'm seeing... as this is the first time.... I have not set up any preferences in the list of tasks for Macrium, so its showing me ALL the possible choices...
"choose wisely"
As someone said here before to me.....
As if I make the wrong choice, in an unfamiliar program screen...... I lose everything... nothing to back up if I mistakingly copy back onto the full Hard Drive the brand new, Empty one!!
Yes, I will get same "warning" about the drive I'm copying into will erase all data.... but that does not help me to determine WHAT direction am I copying!
I guess I'm writing here as I'm lazy? or stupid?
In Mac's (yeah I know I have an Apple or two), there is a SIMPLE "ARROW" showing which way it goes from a graphic of computer to a graphic of an "external HDD"... you can click on arrow to make it go either way for their "sync" program= instant backup---no need to buy a separate program (its old Apple, today they have Time Machine just to let anyone know before they write back and tell me about that method vs my old old Tiger method).
In Windows, on PC's I always used Norton Ghost...
They had a simple end of the programming phase screen for the first ever backup (or for each subsequent time) backup.
I don't have a Screenshot from Norton Ghost to display here, [I'm looking, I'm certain I took one but its at least over a year ago when I went from Norton 14 to 15 (I always follow what I do via screen shots in case I had to show the guys on the phone what went wrong, and probably never had time to delete that one--) ]
But as I remember it.........Norton Ghost 15 clearly shows a very easy to follow the logic in a list:
SOURCE DRIVE: ________ Drive Letter and etc information serial number of the Drive, capacity etc
TARGET DRIVE: ________ Drive Letter and etc information serial number of the Drive, capacity etc.
Compare that history I have of backup /sync programs with what this screen looks like from MACRIUM's own online help pages:::
See Screenshot 1 "Summary"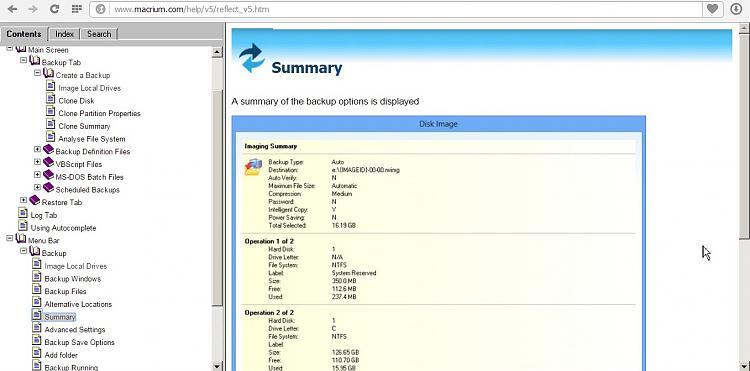 I never got that far I got confused when I attached my External HDD and did not know for "100% certain" on a new program (Macrium Reflect) what I am doing!
Here are comparative screen shots.... showing my many choices I see the blue line under each of three partitions on the HDD inside the Laptop (I know I can check or uncheck the whole drive or individual partitions within the drive--there are TWO types of checkmarks!! Again not clear no explanation in the tutorial nor in the manual exactly what to do
(Yes the video I know shows checking and unchecking them but I can't ask the guy (whs did it---to stop and explain that better than he did at that point)-------but I have no idea what that changes---no information, no update, I have to send it off to the ACTION part of the program and risk accidentally starting the copying process....see first the 4 screenshots below.....
Screenshots 2 and 3 and 4 (note red arrows on the thin blue line as to what partition of 3 is selected)
and I see the same blue line if I select the External Hard Drive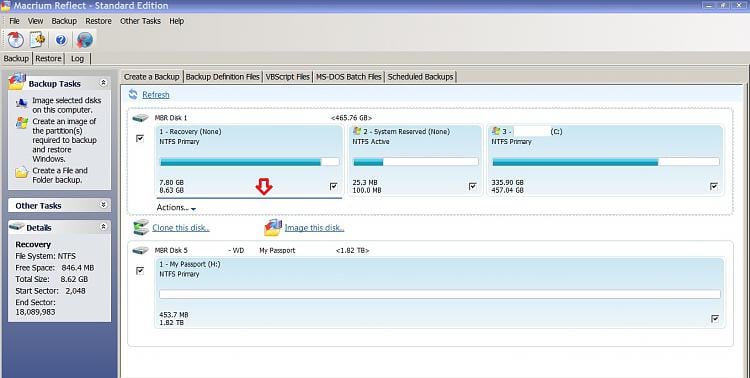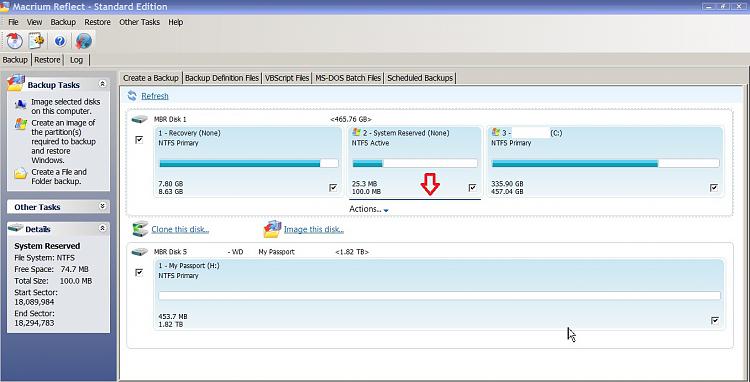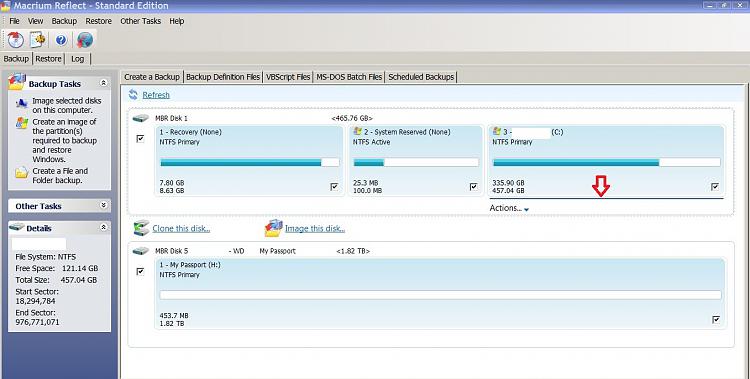 Screenshot 5 ( see the red arrow for the blue line and note the two choices now drop down to this next level..... in the green arrow... for me that is frightening!!! This clicking back and forth ability-----indicates I could copy accidentally in the wrong direction and not realize it , either today or in future!!)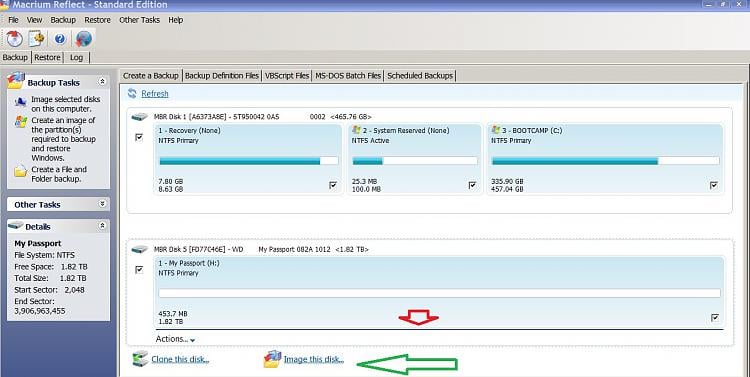 And I can't tell until I make my irrevocable choice (I don't know what to do if its wrong) which way to go as there is no further screen according to the Instrucitons on online help except the "Summary" screen (Screenshot 1) above... (and press "go etc" to do the process..
I'm just adrift and wondering how to choose and if I want to just do the whole C Drive, I also must do the MBR and System Reserved, but I want them dated and filed until the same folder (I guess I could create one, but again it warns AGAINST changing the names as the system might not recognize them to do a restore!
Remember earlier in my post here I said...
"I'm confused"
Well Macrium Help has a page for me... right at the beginning::::::::::::
Here is what they say to do if you are "confused" about what to do:::
Screenshot 6 "confused"
SO again I'm reading everything.
Understanding, nothing...
Thanks for reading my writing...
Signing myself today (I can't change my user name)...
as "Confused".......