Hi Everyone!
Thanks for all your advice in these prior questions:
Macrium Reflect How Do I Use It?
As per Forum rules, I made a new Question for this one.
I ran the Macrium Reflect today.
I got the following error message in Screenshot 1: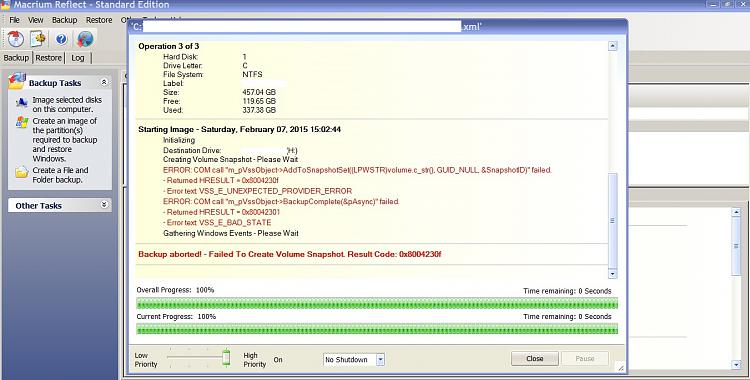 Typed it out for easy copying and pasting if anyone wants to research it other than what I attempted:
Backup Aborted Failed to Create Volume Snapshot Result Code ox8004230f
And the Copying process stopped with lots of other Red errors as you can see in the above Screenshot.
I stop here for those who only want 10 lines..
============ ==================== ===================
For those (like me) who want to give the whole story..... Here are the steps I followed screenshot by screenshot....
And ONE more Question (Yes I know one question per thread, but maybe this question (SEE BOLDFACE BELOW) will determine what the error was caused by??
No, I'm not discouraged.....expected trouble and prepared for the worst, so its better than having tried to copy
Step 1. Defining the Backups ( already posted several times in above Forum screenshots 2-4 about the prior steps, so I'm just proceeding with the new ones I had not done here.....
Screenshots 1---and 2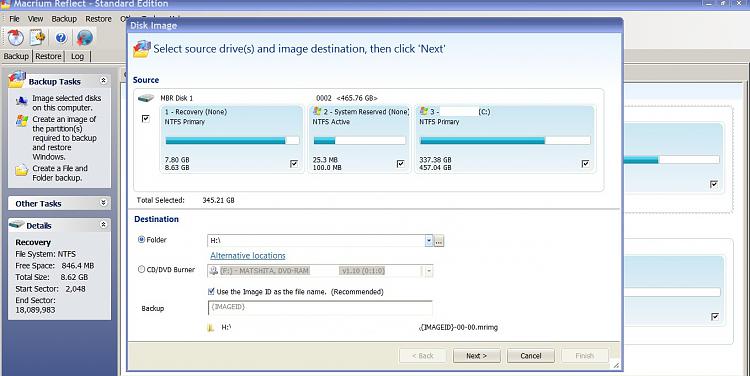 Step 2 "Choosing advanced items"
Screenshots 3 & 4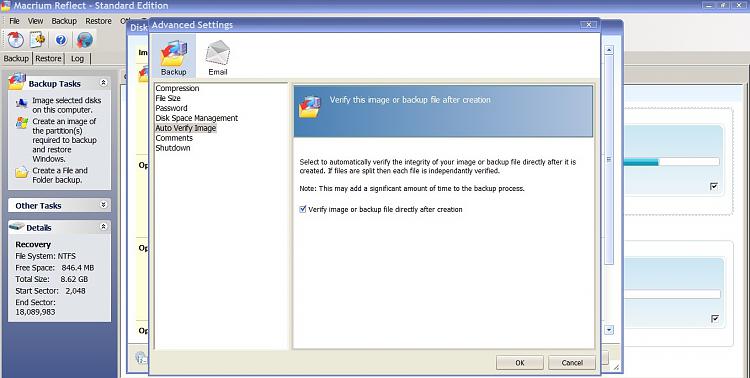 Step 3
Screenshots 5 & 6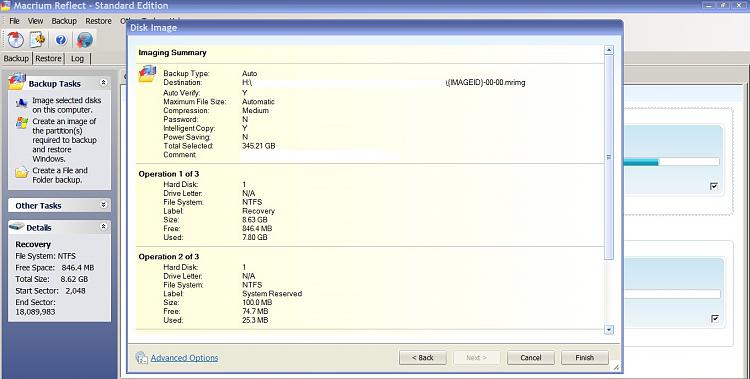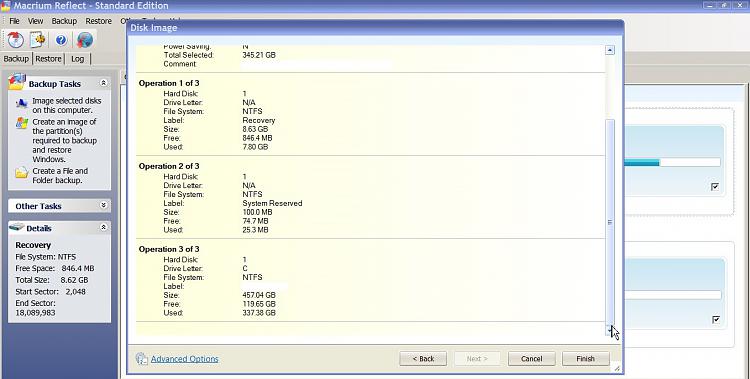 "Finish"
Screenshots 7 & 8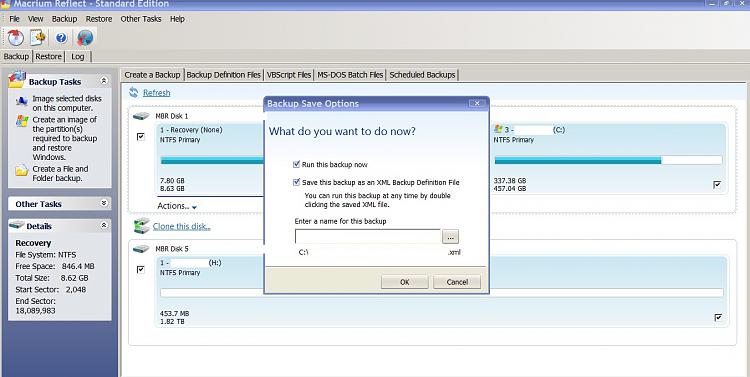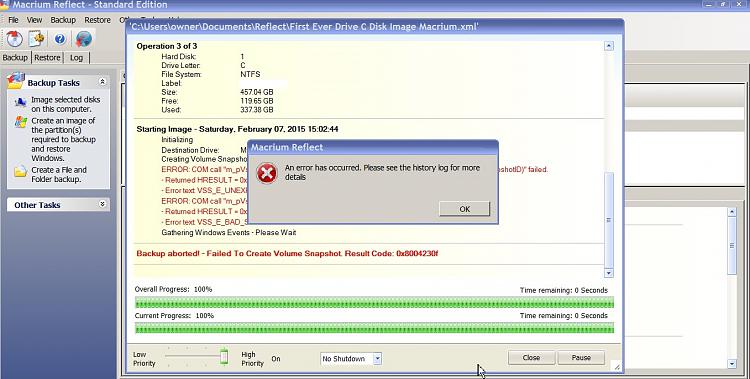 Step 4
Here is the aborted back up error message again for convenience
Screenshot 9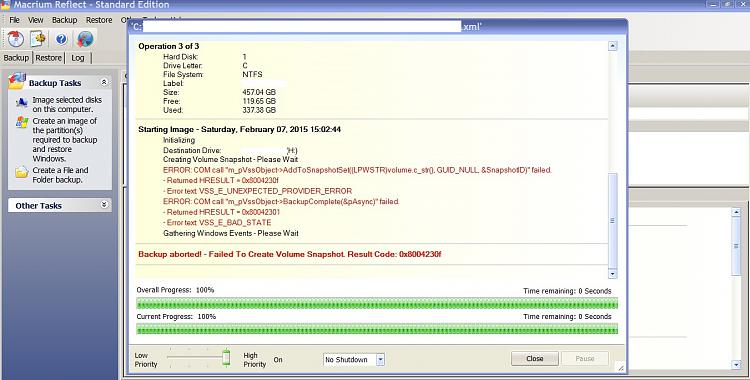 Now that I typed more, you can see the small box before the Error message in Screenshots 10 & 11 below
Screenshots 10 & 11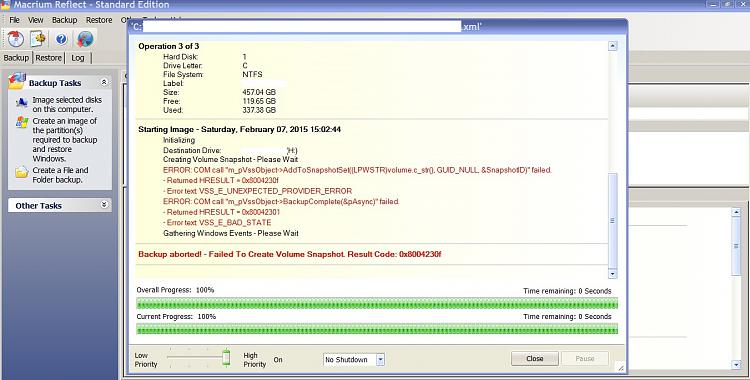 says to check History Logs
Screenshot 12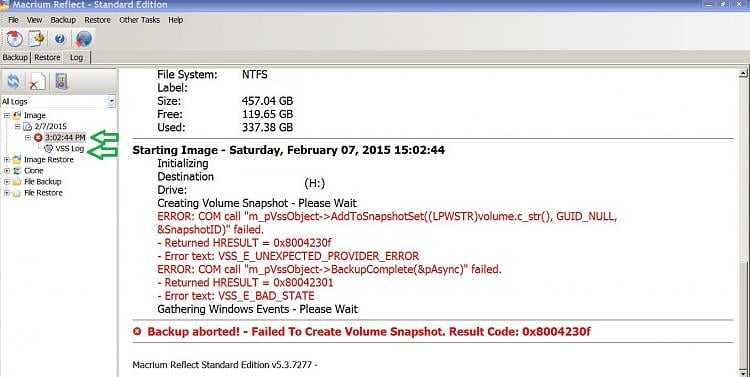 I did.
I checked the Log here: (first green arrow in above screenshot12 )
Got same errors in Screenshot 1
I opened up the VSS LOG too (second green arrow in above screenshot 12)
I can't "cut and paste" it won't let me
So I can't white out identifying features I don't want to post about the computer name, etc on live open Internet.
I took 6 more photos of each page of the VSS Log
ONLY if someone needs to see it will I try to go over it line by line and white out stuff
(makes it harder to follow I know) and I don't know which numbers are personal private for the computer and which numbers are generated by the Macrium program itself )
So I can white those out everywhere...... but I dont' know have no idea how long that will take me
so hoping you all can figure this out without the VSS log in front of you
I can say it seems to be related to the fact the computer does not know how to make "shadow copies" (exact words are here:
Quote:
Volume Shadow Copy Service error: Error creating the Shadow Copy Providor COM class with CLSID (790f2886-9889-4c99-8ef-531add05d044) (9x80070424, The specified service does not exist as an installed service.
Thanks to all who read this far... did it by photos mostly, as a picture is worth 1000 of my words, right?
Talking/writing more: I did do some research.... on Macrium knowledge base... this link:
VSS fails due to modification by 3rd party software (Backup, Clone Disk, VSS)
Says I have "ShadowProtect from Storage Craft" on computer.
NO I DO NOT.
What I DID have and no one can "find" is a fully operating Norton Ghost v 15.... Maybe the left over pieces of whatever virus or whatever caused its removal (I DID NOT REMOVE IT) left pieces scattered and is causing this to occur....
NO I DO NOT have Acronis on this computer (I am familiar with it and use it only on Windows XP SP 2 due to SP 3 failure---so long story short, only Acronis on one of the XP Drives functions to make a 100% clone, not a backup---for various failure reasons SO NO ACRONIS on the WIndows 7 x64 computer).
I also investigated the VSS Log Shadow Volume problem in this Macrium knolwedge base:
How to troubleshoot Microsoft Volume Shadow copy Service errors (VSS)
While I do have some computer knowledge, the fixes here are beyond my comprehension or fear of making something far worse happen (as you know from my prior posts).
The error code does NOT match the one I have exactly (does it have to?) It has about 5 "f" letters at the end and I only have one "f" Hex code on the Error message.
Additionally (yes there is more) I checked the "easy" one and computer is set to Manual
I DID NOT DO IT
BUT I've had many many other 3rd party programmers on remote sticking their fingers into the computer to help install these other programs so its unknown from memory if (as I did watch them do things) if anyone set it from "automatic" to "manual"..
Almost impossible to know the other programs (of 100 or so here) which might be effected by doing that switch back and cause other problems down the road using them....
Here is a Screenshot of the setting for VSS if it is indeed what is causing the problem
Screenshot 13
Of course I have no one to tell me..... When I turn it back to "automatic"
Question: How long do I run the computer to make certain that there are sufficient images built up in the "shadow" VSS volume before I attempt to copy again?
Question: What happens if something else occurs and I get BSOD or worse??
I HAVE NOT MADE successfully a copy due to this setting being wrong and I could lose it all again if I don't know what is going to be effected by changing the setting from Manual back to "automatic"????
Questions and I worry about the "unknown" again... Sorry all!
============ ================ ===================
Good Luck everyone figuring this out!
Extra Question:
I have 362 GB used in Drive C.
I have 7.80 GB in the System Reserved and 25 MB in the middle partition. YET Macrium said to me its going to "copy" 345.21 GB to my External Hard Drive!
Why the loss of c. 17 GB? What's going on here (does it relate to the above error or is it another surprise error waiting to happen when the program tries to verify the 345.21 GB and finds it will NOT match up with the 362 GB used up in Drive C!
Thanks
XP VM User (sorry got stuck with this name on first visit here)