Hi Jumanji, thanks for looking into this, I really appreciate it. I've had partial success with file recovery software, but there are a lot of damaged files and verifying which are good and which aren't is an enormous task.
I've installed Bootice and looked at both the 1tb ExFAT and 500gb ExFAT/HFS drives and they show very similar results, although they differ from yours. Sector 0 of each drive is almost but not entirely zeroes, sectors 2-2049 are all zeroes, and sector 2050 is the first sector after sector 0 with data. Sector 2050 of each drive has identical first and last lines, but to avoid confusion I have only posted screenshots of the 1tb ExFAT drive.
Sector 0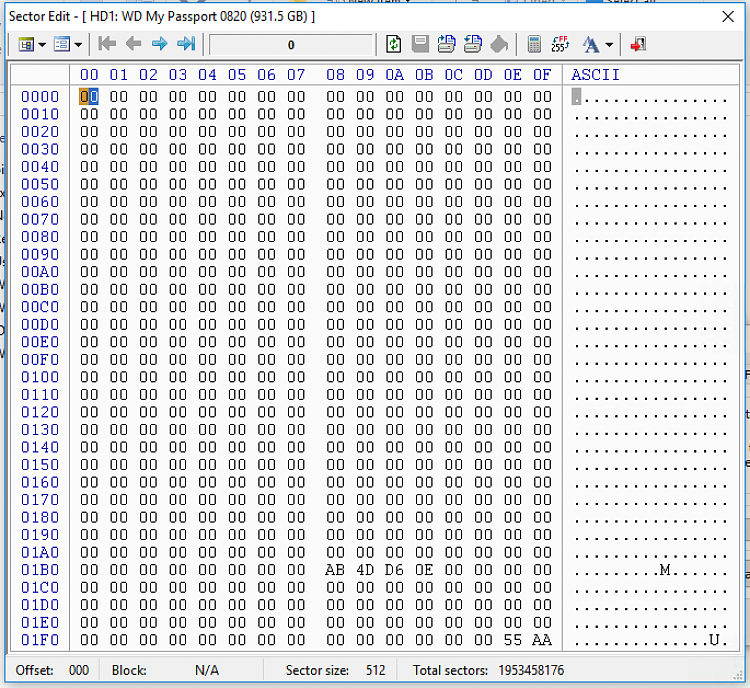 Sector 2050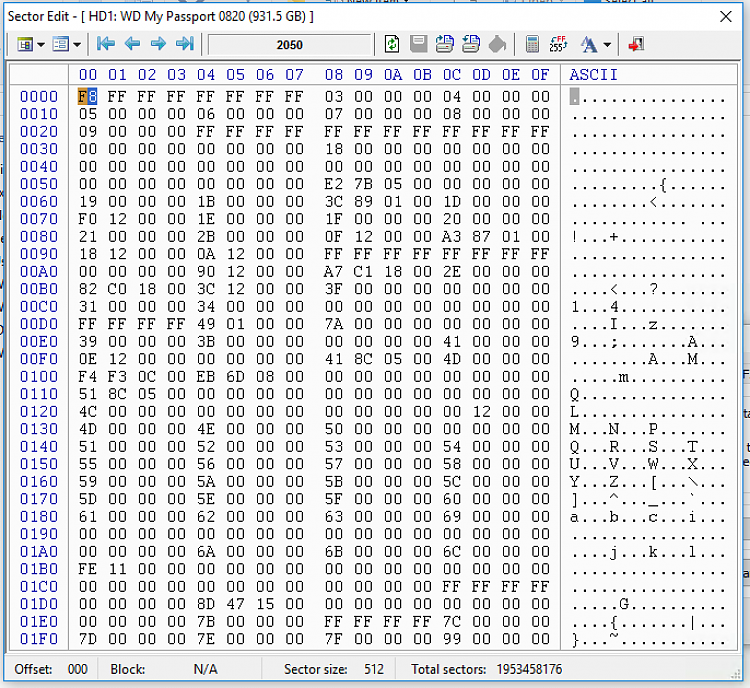 A couple of other points which may or may not be relevant:
- The last 2048 sectors (i.e. 1,953,456,128 to 1,953,458,175) of the 1tb drive are also zeroes (my understanding is that diskpart clean zeroes the first and last 2mb of the drive)
- Immediately after running diskpart clean I rebooted. When the drives didn't show up I opened Windows Disk Management and inadvertently re-initialised the drives. I then ran diskpart clean again, thinking that would put me back in the situation I was in prior to initialising the drives. I successfully recovered the NTFS partition on my 2tb drive after doing this, so I hope no further damage was done
- A couple of days ago I ran testdisk again on the 1tb drive, using the 'none' partition table option. As with the 'Intel' and 'GPT' attempts it found numerous partitions, but no ExFAT partitions. However DMDE did find traces of the ExFAT partitions on both the 1tb and 500gb drives, although it doesn't seem to have a partition recovery option and didn't manage to extract all the files
- I am now reasonably (80%) certain that all the drives were using MBR. All are WD Passport drives and I bought another WD 2tb drive to use for data recovery, and that is using MBR. All the other drives are older and I don't believe I converted them to GPT at any point - though it's possible (I think unlikely) that OSX may have done so for the 500gb drive
- The 1tb drive is very much the drive I want to save. I think the 500gb drive only had training footage and the backup of my photos on it - whilst it would be a shame to lose some of the footage, it's by no means a disaster
Thanks again!