Since I've done single, dual and x2 cards - thought I'd give Tri SLI a go since I'm now using surround again.
1920x1200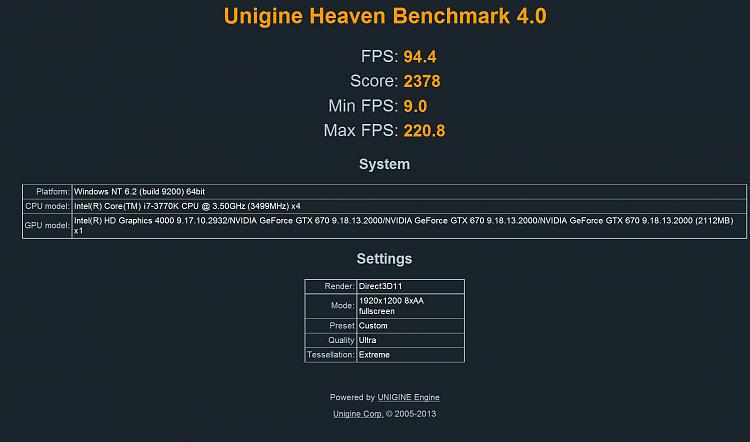 5760x1200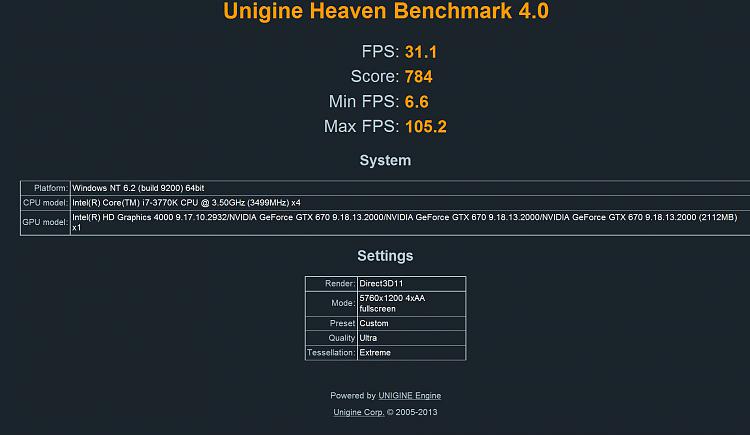 Xtreme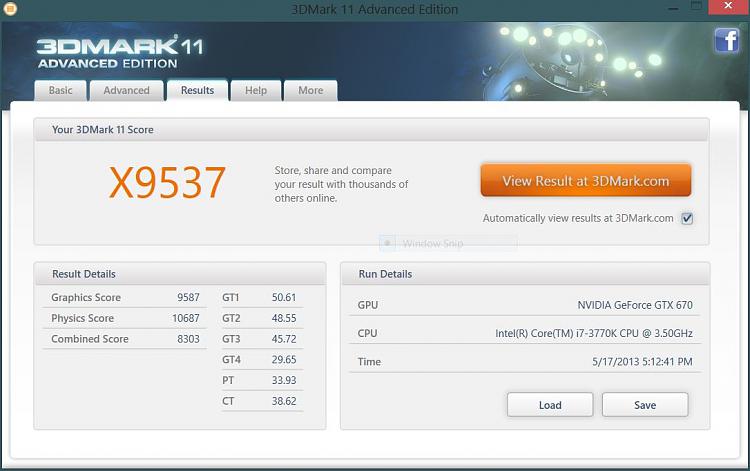 As you can see the scores are pretty good. However after a few days of living with TRI, I don't know if I'm going to stick with it.
Real world Cons:
► Less stable (Drivers, game etc ? - lots of lock ups in game, screen blanking and general bumbuggery)
► HEAT (What a b@stard. In slot 1/2/3 the top and middle cards exceeded 100c triggering both thermal throttle and then shut downs. In slots 2/3/4 Middle card hovers in the mid-high 90's
► Noise (Due to heat, cards fans have to be run close to, if not at, 100%. Whilst not obnoxious, it is intrusive)
► Scaling/usage (3rd card tends to be under used by a good 20-40% depending on game. Knew that going in though. Just sucks to confirm)
► Needs CPU OC (With 2 cards at 4.6ghz, I was getting 99% GPU usage from both. Now I'm between 60-80% on the top two cards. I can't push this chip higher because of heat.
► Still not fast enough. (Yep, it's not all max at 60FPS. For some games I found that using the 1/2 rate vysnc to cap @ 30fps provides a smoother play. Admittedly it's surround resolutions which kill it, but still... moar powah!)
► Space (Forgot about my PCI-E sound card didn't I? Sitting in Slot 2 wasn't it? Had to go back to onboard if I wished to have sound... That was at least my fault for not noticing beforehand

)
Despite appreciating the extra FPS in some games, especially with surround; overall I don't think the 'sacrifices' are worth it. At least VRAM usage isn't a huge deal with most games. 1.6GB tends to be the median VRAM used (little/no AA). If I didn't use surround, I wouldn't have entertained the idea. And quite frankly the 7xx series from Nvidia is pretty piss weak. It seemed a cheaper option to add a third than upgrading to two new cards. Even with two 670's, I can ride it out till a better card more capable of handling high resoultions comes along.