Since two days ago all my browsers function very slow. A new tab can take 15 seconds to open, typing in addressbar has very long delay (I type an address and hit Enter, it takes up to 20 seconds for first letter to appear, then other letters appear one in every 0.5 to 1 second). Typing this post using Maxthon browser, if I make a typo and right click to open spell check context menu, it opens after about 10 seconds delay.
Behavior is the same with all browsers (Maxthon, IE10, Opera, Chrome, Firefox).
Flash does not work at all, or when then it's as if watching stop motion, streaming flash videos show one frame, then after a long delay jump over several frames to show next. Flash also gives this error message:
Some flash sites do not even show the flash content, as can be seen in this screenshot from Speedtest.net: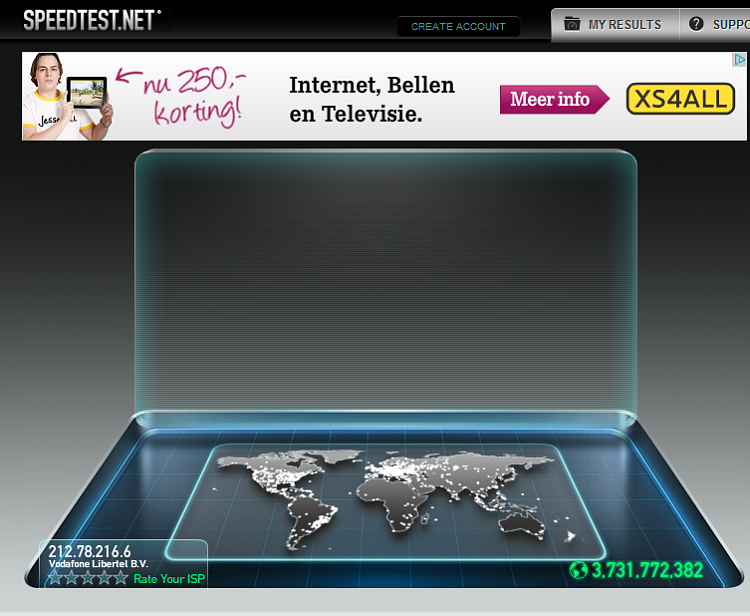 Notice the big empty grey area where normally the map and test buttons are shown.
Laptop is as in my specs except it's now running Windows 8 RTM. I'm on the road now, at the moment in The Netherlands and this started Wednesday as I arrived at the hotel where I am currently staying, so I first thought this has something to do with hotel's slow internet connection but my other laptop works fine using same connection.
Malwarebytes finds nothing. Browsers all latest versions, Adobe Flash Player updated. Any ideas welcome.
Kari