Something strange has happened when viewing a forum that I regularly visit (
www.diynot.com
). For some reason, it has started viewing it differently, ie. the font size is smaller. The font size on the normal threads of this site are a little smaller, but on the search function and search results, it's miniscule. The font size could be smaller on other sites, it's just that I use DIYnot a lot, so quite noticeable. The browser is IE8.
I've tried changing the text size in 'Appearance And Personalisation', but then everything looks odd going from the normal 100% setting up to 125%.
Why would my pc suddenly start viewing this site differently? I have asked other users on the site, but they haven't seen any changes. I have noticed other small detail changes - non important stuff, like detailing on the site that wasn't there the day before, eg. dark framing suddenly appeared around post title and message on the post a reply page - see arrows on image below -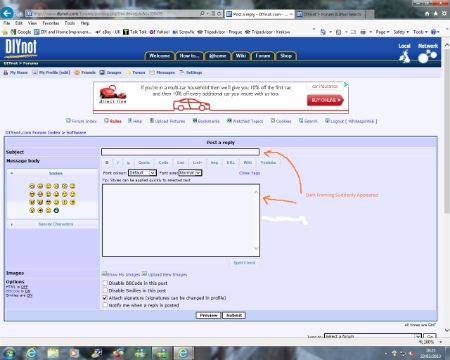 It's like my pc is suddenly interpreting the site differently. One thing that may be responsible, is the same day all this happened, my pc had a lot of application updates that I had to restart the pc after they were received. I wonder if this has changed something.
With this in mind, I wonder if it is worth doing a system restore to a couple of days before the application updates and the problems started? Is it a good idea, or will it cause other problems?
It's only a small thing, but annoying and strains the eyes. Any advice gratefully received.