Pale Moon warns me thusly...
Attachment 319437
...while Aviator happily takes me there without warning.
(I know/trust EEF - having followed their work for more than a decade via
RISK digest
.)
Unfortunately, Aviator fails EFF's test:
Attachment 319436
I performed the
https://panopticlick.eff.org/
test on both my Chrome Browser and Aviator browser. I'm not sure how to determine which ones more secure: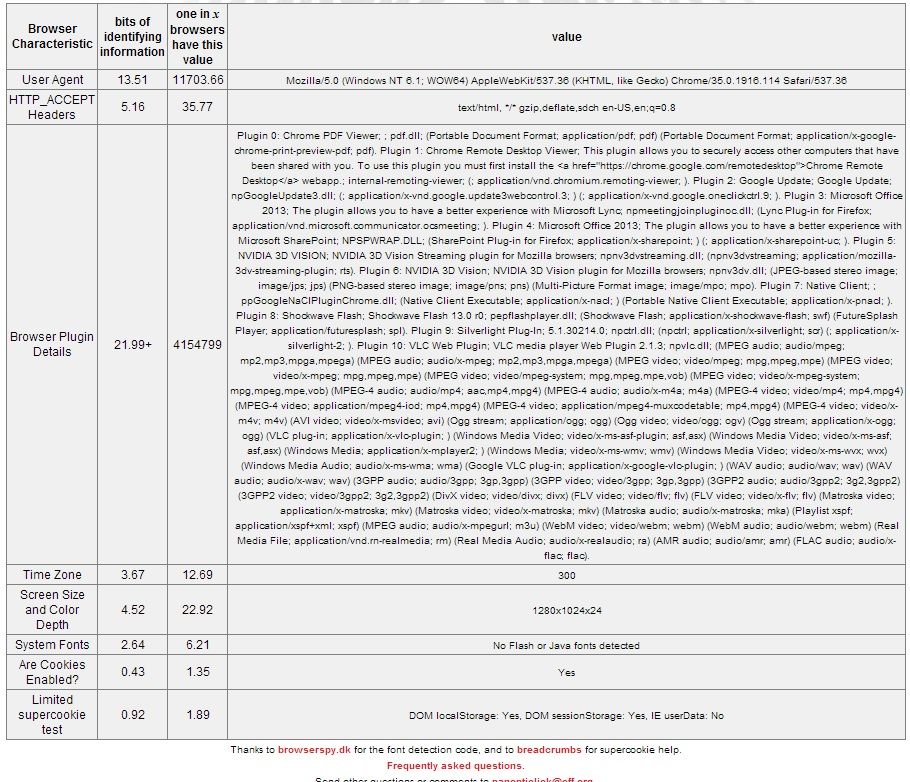 That one is Chrome.
And this one is Aviator...
How am i to tell the difference? What's good what's bad, etc? Did Chrome do better than Aviator?
Well if you look at the
"One in x browsers have this value"
heading:
Aviator on your machine shows 1 in 197847 in your attachment
Chrome shows 1 in 11703
Basically - a low number is better.
So if you're visiting a website using Aviator only 1 in 197847 visitors to that site will have the same browser configuration as you - and if using Chrome 1 in 11703 visitors.
So it's all down to how many regular visitors a website has. On the figures shown Aviator makes you more identifiable as a repeat visitor to any particular site as it's a little used browser.
Amongst visitors using Chrome - you'd really need to know how many other visitors have the same browser configuration to get an idea of how identifiable you are using the browser fingerprinting method.
The aim is to identify repeat visits versus unique visits even if a user has changed their ip address and disabled cookies and any trackers.
It's not really much cause for concern but it's certainly possible to use a random user agent string for each site visit if you're paranoid!