I've just had a quick look at this:
Chrome Malware Alert Blocker Tool : Free Tool to Enable or Disable Malicious File Warning in Google Chrome | www.SecurityXploded.com
Quote: "Recently Chrome has introduced new feature (also called
'Safe Browsing'
) to alert you on malicious internet downloads. However due to faulty implementation, this feature often mark
good files as malicious
and block you from downloading it. On top of that, this annoying feature is useless as most of us already have antivirus on our system to get rid of those malicious files."
Anyway I'm not trying to knock it. The original post was intended to provide information that users can act on if they wish hence - "How to disable if you have any concerns"
The feature has been described by some as "like the behavior of spyware"
Note: Image shows
Google
translation. I'm not totally anti-Google but if you take into account the 14 privacy enhancing browser extensions that I use plus a few other privacy enhancing methods then in my mind it's a bit sneaky to include this feature in Firefox without it being widely known by most users.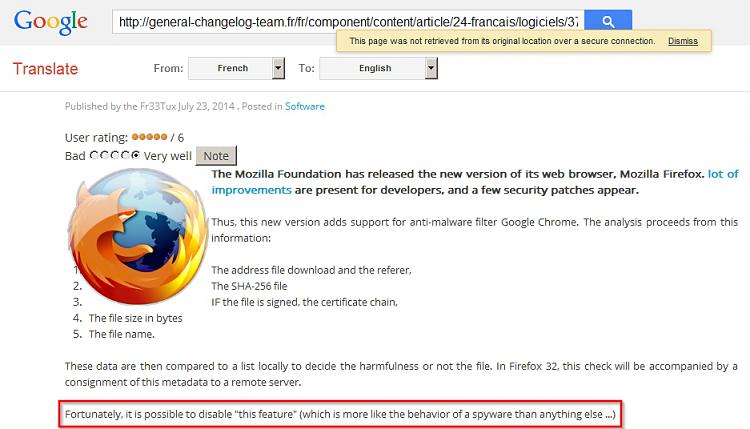 Overall my point is that for most it's probably a good feature but those of us who value what little privacy we have when surfing the internet will not want to make use of it!