Hi Everyone!
Real short question (then ask me for the details).
IE 10 running on my Windows Professional x64 system. (downgraded last year from IE11 upon advice from here).
Now a mystery!
All my history has vanished! The lines and dates and weeks are "there" but are all null sets of data... nothing is being saved except the "new" history from the date of the loss (about a week ago).
I tried to solve it myself.... found a competiting web site here (Tom's Hardware) ::::
"Internet Explorer / Keeps Deleting My History"
http://www.google.com/url?sa=t&rct=j...h84Axz13HUNsXQ
I TRIED what they did ... same results Zero! Zip Nothing!
History works again, but any day, any moment now, I might lose all of it again..and I need to keep consulting older pages I don't need or want to have to bookmark every page I visit!
How to prevent this? (Did Virus Check/Malwarebytes too check all ok).
Photo of it here: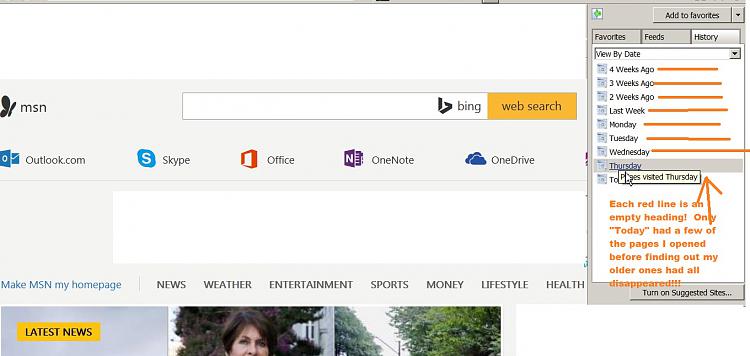 Any more details? Just ask me!
Thanks for reading a short cry for help!
XP VM USER
P.S. I'm trying to do my monthly backup save (first day of month) but..... I'm afriad I'll be saving whatever error is causing this History loss problem with the save of the entire HDD! So need to know before I do another Macrium / AEOMI Save (Great big thanks to everyone here who helped me learn about these and how to use them!!)