Today January 28, 2018 is Data Privacy Day
.
Did anyone else receive an email from their email provider? Here's mine from gmail: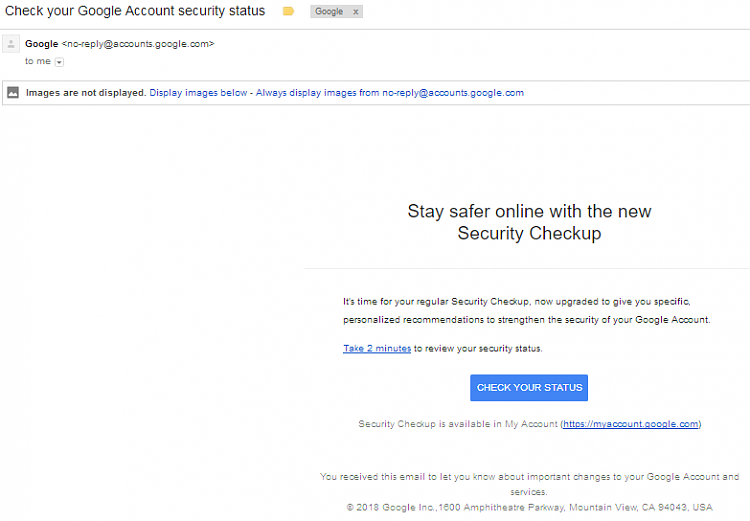 My first thought was Hmm...A phishing attempt? So I did a google search for the headline:
Stay safer online with the new Security Checkup
And came up with this:
Google's Confusing Gmail Security Alert Looks Exactly Like a Phishing Attempt
Security researchers say the legitimate email is training people to have bad email hygiene.
Although legitimate here's what one researcher at the
Motherboard link
had to say:
Quote:
Richard De Vere, a security consultant who specializes in social engineering, said that even though the Google email we got is not a phishing attempt, it is so good at luring people to click on a link that he plans to add it to his brochure of good phishing attacks to use it in his ethical hacking engagements.

"It has urgency, guides to a login page, quite vague, but alarming...we used to take legitimate Google emails and adapt, but this is just perfect as is. [...] It's that good," he tweeted. "Unforgivable for Google to send this out en masse."
After reading some of the other search links I will admit that I had ulterior motives

when I saw that over the last three years google has offered an extra 2GB of storage to users that went through and checked their security settings on Data Privacy Day, I'm still at 15GB so maybe I didn't do it right; I went through a separate myaccount link instead of using the email link or it's taking some time to apply...Oh well....

btw...Even before checking my settings I was okay: