I had been using FF 52.9ESR till 6 months ago, when I copied the contents of my profile into Waterfox Classic and switched. I keep FF as my secondary browser, and keep places.sqlite updated.
I rely on favicons to get me more quickly through my 1800 bookmarks in 52 folders and who-knows how many subfolders. I recently copied my favicons.sqlite back to my FF profile, but nothing shows in the bookmarks. They've all gone back to default until I visit that particular page.
screenshot: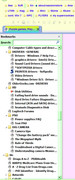 I had no problem with this when I left FF, and I've changed nothing in my profile except places.sqlite.