Hi all,
I have been experiencing severe problems with Far Cry 3 (Happens very frequently) and very minor problems with Borderlands 2 (Rarely happens). No other games have these issues (BF3 etc), so it could possibly be game specific, but am trying to make sure that is the case...
At random times the game will either crash to desktop, or BSOD. The latest 3 BSOD have given me the following errors...
PAGE_FAULT_IN_NONPAGED_AREA 0x50
SYSTEM_SERVICE_EXCEPTION 0x3b
BAD_POOL_HEADER 0x19
I ran memtest on Windows, with no errors (Only a short time)
I then ran from the boot disk version 4.0a overnight (at least 8 hours) upon getting up in the morning, I was faced with the following screen: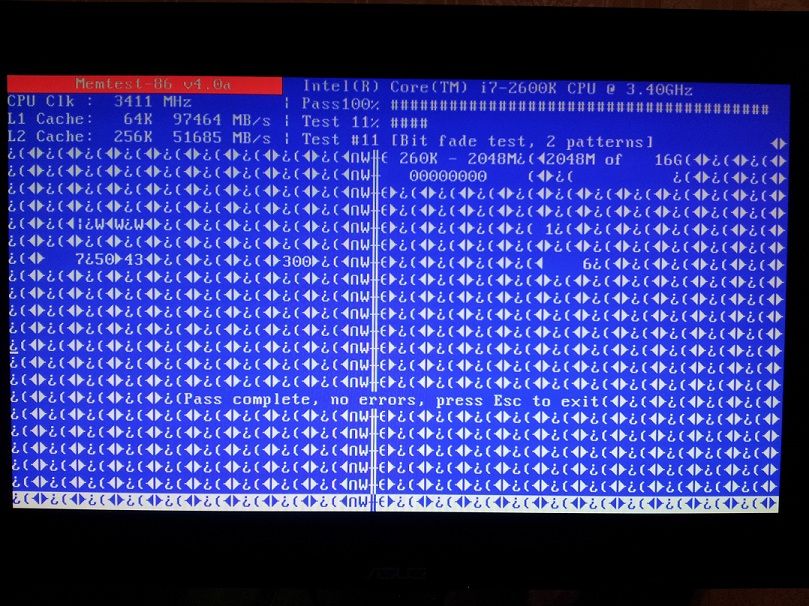 It looks like something is corrupt, but the screen says, in amongst the garble, pass complete, no errors.... and there doesn't appear to be any red within the garble..
Could that still indicate memory errors?
Computer specs:
Asus P8Z680V Pro
Corsair Dominator 2 x pairs of 4GB CMZ8GX3M2A1600C9 @ 1333mhz
This RAM and amount is in the QVL:
CORSAIR CMZ8GX3M2A1600C9(XMP) 8GB ( 2x 4GB ) DS - - 9-9-9-24 1.5 ● ● ● (third dot indicates 4DIMM)
Any reason why the garbled memtest screen?
Oh, and yes, ALL drivers up to date, tried Beta driver as well for Graphics Card, all mobo drivers and BIOS up to date....
Thanks :)