Hi sazzed.
Install Service pack 1 and all other windows updates. Otherwise the system will remain vulnerable to threats.
Code:
Windows 7 Kernel Version 7600 UP Free x64
Product: WinNt, suite: TerminalServer SingleUserTS Personal
Built by: 7600.16792.amd64fre.win7_gdr.110408-1633
Learn how to install Windows 7 Service Pack 1 (SP1)
Service Pack and Update Center - Microsoft Windows
Test your RAM modules for possible errors.
How to Test and Diagnose RAM Issues with Memtest86+
Run memtest for at least 8 passes, preferably overnight.
If it start showing errors/red lines, stop testing. A single error is enough to determine that something is going bad there.
Avast is failing here. Uninstall Avast using
Avast Uninstall Utility
. Use
Microsoft Security Essentials
as your antivirus with windows inbuilt firewall, and
free MBAM
as the on demand scanner.
Download, install and update those, and then run full system scans with both of them, one by one.
Scan the system for possible virus infection with the following programs.
latest WHQL
.
You can get it from the link in our forum,
Latest AMD Catalyst Video Driver for Windows 7
, or you may go to
AMD Graphics Driver and Software
and opt for Automatically Detect and Install the appropriate driver for your card.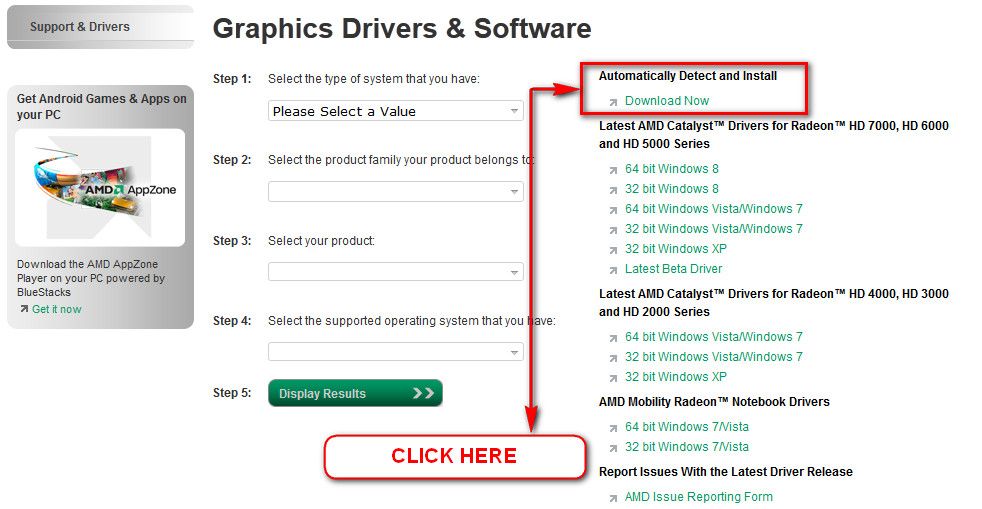 During installation, you may opt for advanced installation, and install the display driver only, not the Catalyst Control Center.
The network driver is outdated. Download and install Win7 and WinServer 2008 R2 Auto Installation Program from (fourth one in the list) :
Realtek
Let us know the results. Also upload your MSINFO32.nfo file.
Click on the start button
Type "msinfo32" (without quotes) in the search bar of the start menu, click the resulting link. It will open the System Information window.
File>Save. In the "File Name" filed, put "MSINFO32" (without Quote), give the save location to desktop, and click the "save" button.
Give the time for processing, it will save a .nfo file on your desktop.
Zip it, and upload it following the instruction.
__________________________________________________________________________________________
Code:
CHKIMG_EXTENSION: !chkimg -lo 50 -db !nt
44 errors : !nt (fffff8000347701f-fffff8000347ef3f)
fffff80003477010  00  00  48  8b  45  b0  4c  8b  85  00  01  00  00  4c  8b *cd ..H.E.L......L..
...
fffff80003477030  ef  d2  66  0f  ef  db  66  0f  ef  e4  66  0f  ef  ed  48 *cb ..f...f...f...H.
...
fffff80003477080  fa  65  48  8b  14  25  88  01  00  00  48  8b  7a  28  48 *cd .eH..%....H.z(H.
...
fffff80003477210  0f  6f  70  30  66  0f  6f *38  40  66  44  0f  6f  40  50  66 .op0f.o8@fD.o@Pf
...
fffff80003477330  48  83  ec  70  48  8b  4b  28  48  8d  49  50  48  89  4c *64 H..pH.K(H.IPH.Ld
...
fffff80003477410  0f  6f  b8  c0  00  00  00 *0c  8b  a0  18  01  00  00  4c  8b .o............L.
...
fffff80003477430  01  00  00  fb  65  48  8b  1c  25  88  01  00  00  65  0f *ee ....eH..%....e..
...
fffff800034775a0  54  24  70  44  0f  29  9c  24  80  00  00  00  44  0f  29 *e4 T$pD.).$....D.).
...
fffff800034776b0  00  00  c3  90  90  90  90  90  90  90  90  90  90  90  90 *d0 ................
...
fffff80003477710  89  4c  24  20  9c  48  83 *ac  30  fa  65  48  8b  0c  25  20 .L$ .H..0.eH..% 
...
fffff80003477820  cc  cc  66  66  66  66  66 *26  0f  1f  84  00  00  00  00  00 ..fffff&........
fffff80003477830  48  81  ec  d8  00  00  00  0f  29  74  24  30  0f  29  7c *64 H.......)t$0.)|d
...
fffff80003477890  83  f8  01  73  09  b8  01  00  00  00  44  0f  22  c0  49 *cb ...s......D.".I.
fffff800034778a0  d8  4c  8b  94  24  00  01  00  00  4c  89  54  24  20  e8 *fd .L..$....L.T$ ..
...
fffff80003477920  00  48  81  c4  d8  00  00  00  c3  cc  cc  cc  cc  cc  cc *d0 .H..............
...
fffff80003477aa0  00  02  0f  84  8c  00  00  00  66  f7  c2  00  03  0f  84 *c1 ........f.......
...
fffff80003477b20  00  41  89  90  94  00  00  00  b9  d9  01  00  00  0f  32 *c3 .A............2.
...
fffff80003477c20  00  00  8b  0d  28  77  23  00  89  95  9c  00  00  00  41 *43 ....(w#.......AC
fffff80003477c30  c8  0f  32  89  85  90  00  00  00  89  95  94  00  00  00 *cb ..2.............
...
fffff80003477cb0  0f  23  f0  0f  23  fa  65 *b6  04  25  4a  4d  00  00  02 *34 .#..#.e..%JM...4
...
fffff80003477e10  00  00  0f  29  a1  e0  01  00  00  0f  29  a9  f0  01  00 *40 ...)......)....@
...
fffff80003477ea0  48  55  56  57  48  83  ec  30  48  8b  ec  48  85  d2  0f *c4 HUVWH..0H..H....
...
fffff80003477f30  40  48  4c  89  81  f0  00  00  00  4c  8b  40  50  4c  89 *c1 @HL......L.@PL..
...
fffff80003477fb0  29  81  70  02  00  00  0f  28  80  e0  00  00  00  0f  29 *c1 ).p....(......).
...
fffff8000347e020  48  03  f8  4c  8d  1d  e6  73  13  00  89  4c  24  30  3b *8a H..L...s...L$0;.
...
fffff8000347e090  84  51  ff  ff  ff  8b  4c  24  30  8b  54  24  34  4c  8d *5d .Q....L$0.T$4L.]
...
fffff8000347e190  8d  aa  f0  01  00  00  e9 *21  fd  ff  ff  8b  4c  24  30  8b .......!....L$0.
...
fffff8000347e1b0  49  8d  8a  f0  01  00  00 *ab  a9  90  90  90  90  90  90  90 I...............
...
fffff8000347e790  0f  84  59  e8  04  00  f3  90  8b  03  84  c0  78  ea  f0 *4f ..Y.........x..O
...
fffff8000347e810  01  44  38  a3  67  01  00  00  0f  84  e4  01  00  00  8b *c3 .D8.g...........
...
fffff8000347e900  4c  8b  e8  0f  b6  45  02 *08  2b  97  40  47  00  00  48  03 L....E..+.@G..H.
fffff8000347e910  ca  48  89  4d  18  a8  05  0f  85  ef  9d  07  00  4c  89 *ef .H.M.........L..
...
fffff8000347e9b0  44  0f  22  c1  48  8b  c7 *0c  8b  7c  24  48  4c  8b  74  24 D.".H....|$HL.t$
...
fffff8000347ea10  00  e9  de  fd  ff  ff  f0  0f  ba  2e  07  0f  82  80  9d *47 ...............G
fffff8000347ea20  00  f6  46  03  c0  0f  84  38  01  00  00  0f  b6  4e  02 *cb ..F....8.....N..
...
fffff8000347ea90  00  ff  ff  ff  ff  45  39  a6  24  de  ff  ff  74  1e  41 *4f .....E9.$...t.AO
fffff8000347eaa0  b7  86  58  e4  ff  ff  41  0f  b6  96  68  e4  ff  ff  4a *cd ..X...A...h...J.
...
fffff8000347ec30  44  0f  b6  c8  4d  8d  45  08  f0  4c  21  61  40  8a  4a *6b D...M.E..L!a@.Jk
...
fffff8000347ed30  0f  ba  6f  30  00  72  de *08  8b  57  10  48  85  d2  75  09 ..o0.r...W.H..u.
...
fffff8000347ee30  83  40  28  01  f0  4c  21  63  40  48  85  ed  74  07  81 *23 .@(..L!c@H..t..#
...
fffff8000347ee90  96  07  00  f3  90  48  8b *03  40  48  85  c0  75  e5  f0 *08 .....H..@H..u...
...
fffff8000347ef30  00  e9  dd  fe  ff  ff  48  8b  55  00  4c  8d  8c  24  a0 *40 ......H.U.L..$.@

MODULE_NAME: memory_corruption

IMAGE_NAME:  memory_corruption

FOLLOWUP_NAME:  memory_corruption

DEBUG_FLR_IMAGE_TIMESTAMP:  0

MEMORY_CORRUPTOR:  STRIDE

STACK_COMMAND:  .cxr 0xfffff880027dd120 ; kb

FAILURE_BUCKET_ID:  X64_MEMORY_CORRUPTION_STRIDE

BUCKET_ID:  X64_MEMORY_CORRUPTION_STRIDE

Followup: memory_corruption
---------