hi guys
-------
My system
-----------
CPU
: Intel i5-2500k
Main
: Asus P8p67 rev3.0
Ram
: 2x2gb gskill ddr3 1600mhz
Graphic
: gainward GTX460 2gb
Hard
: wd 500gb black series
monitor
: LG w1952tq 1400x900
Cooler
: zalman cnps10x
Power
: 585w
Note:
- Recently installed Windows 7 Ultimate x64
- The motherboard BIOS is updated
- Direct X have installed
- Last graphics driver version is installed (353.30-desktop-win8-win7-winvista-64bit-international-whql)
- ram testing was no problem
Problem:
- Everytime I installed a NVIDIA drivers (all version) I will get a BSOD (nvlddmkm.sys)
My graphics card is 3 years old . It has been working for three years without any problems. But recently I've had this problem Nvlddmkm.sys
Start in Safe Mode and Remove all the NVIDIA Drivers and see if the default VGA Driver will load.
- I looked at all the solutions - But none of them did not respond
Fixing the Nvlddmkm Error (Display driver stopped responding and has recovered)
screenshot in GPU-Z - The graphics card is not work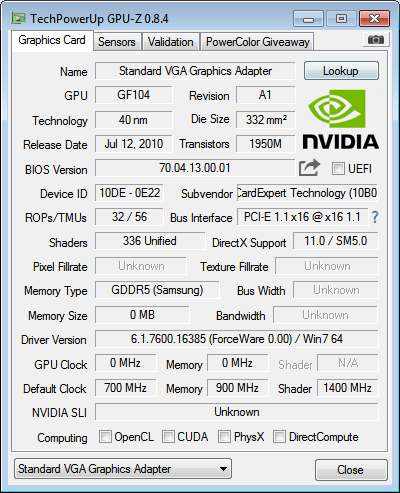 What is the problem?
ty