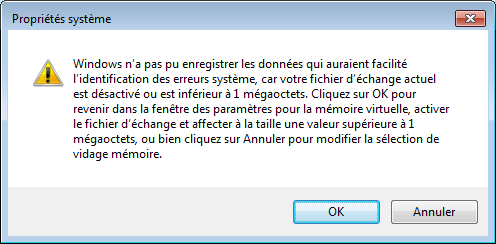 Windows---Demarrage-et-recuperation---configuration-Minidump----avertissement.png
I couldn't find the original warning message in english, which would have helped to look for a solution.
I do have a few xxx.dmp files in the "Minidump" folder, but the most recent one is from 20190616 so they're almost a year old (I don't know why it worked for a few days, and then stopped working again).
Minidump-20200420.zip
The corresponding error messages (the times noted below correspond to the time when I made a backup of my Firefox profile, usually right after the crash but not always) :
20190608 12:30 "PAGEFAULT_IN_NONPAGED_AREA"
20190608 15:50 "PFN_LIST_CORRUPT"
20190610 23:08 "PAGEFAULT_IN_NONPAGED_AREA" / win32k.sys
20190613 15:00 ntfs.sys (I noted that it happened when I plugged a HDD through a USB bridge)
20190615 04:47 "PAGEFAULT_IN_NONPAGED_AREA"
20190617 04:02 "PFN_LIST_CORRUPT"
(Strangely no backup made on 20190616 around 23:00 / 11:00 PM)
As for informations about my computer, I think that I provided enough in the first post, what else should I mention ?
Error messages for the latest crashes :
20200416 01:27 "PFN_LIST_CORRUPT"
20200416 20:20 no specific message
20200418 03:34 raspptp.sys / "an attempt was made to execute to non-executable memory"
=> I hadn't had that one yet
20200419 05:51 "PFN_LIST_CORRUPT"
20200420 02:12 "PFN_LIST_CORRUPT"
As I explained in the first post (and as I indicated in the title of this thread) I can't set the system to save crash dumps, each time I try I get the same warning saying that the swap file is disabled or has a size below 1MB, which is NOT TRUE (swap file is set to "managed by the system" on the C: partition, with a current size of 1643MB) :