Problem:
Win7 Pro 64-bit installed and worked perfectly for a week. Then it began giving me the occasional random BSOD on bootup until it eventually stopped booting at all. I tried recovering from the Win7 install disk but it gives me the same BSOD. Here is where it occurs:
It boots from the disk and copies the files just fine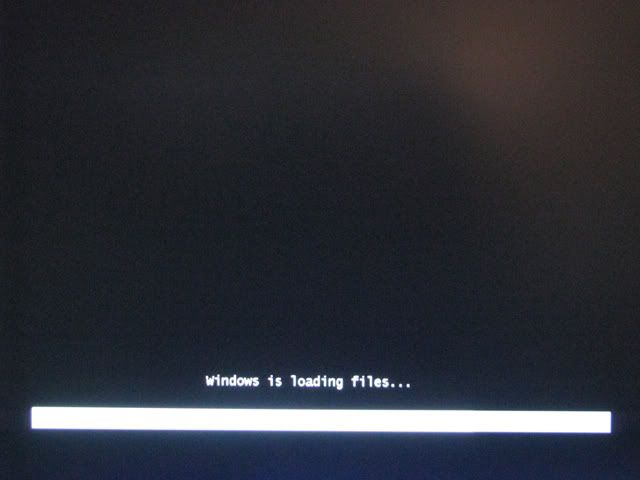 Then the progress bar moves for a short time
Then this: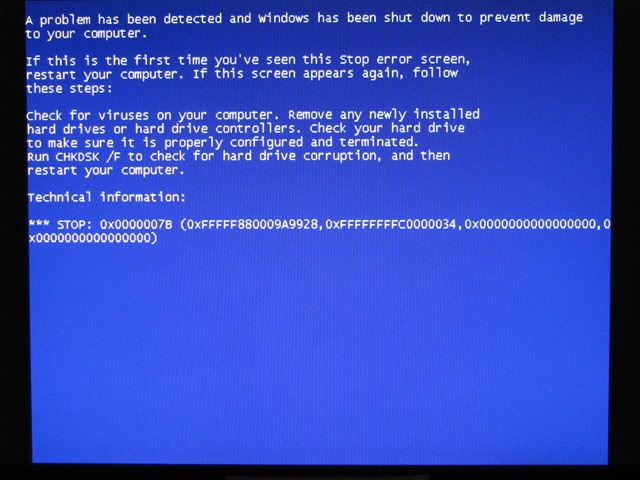 Troubleshooting:
I ran several HDD tests (CHKDSK, Seatools, SpinRite 6) without a single error. I also tested the memory (memtest86 and windiag) but found no errors. I finally formatted the HDD for a fresh install and it still didn't work.
I reinstalled XP Pro 32-bit and it has been working flawlessly for six months.
Since then, I have systematically replaced the HDD, memory, DVD-ROM, PSU, and motherboard (going from a P35 to P45 chipset). I also tried three different video cards (1 ATI and 2 nVidia). The only thing I have not replaced is the CPU (e8400) because of the expense. None of these things fixed the problem.
When I try to install, I disconnect all the peripherals and internal components not necessary for installation. I've tried a PS/2 keyboard with no USB devices connected. I tried the backup disk I got from MS instead of the ISO I downloaded (which is what I used to install in the first place). I've flashed to the latest BIOS. I've played with every BIOS setting I can think of that might be causing the problem. None of this works.
Solutions?
The only hardware I haven't tested is the CPU. XP 32-bit works fine but Win7 64-bit does not. Is it possible that a CPU could fail in a way that it will not run a 64-bit OS but will still run a 32-bit OS?
It's got to be a hardware failure but I have never heard of a CPU acting this way. What else is there to try before replacing the CPU for an unlikely fix?
Original setup:
e8400
Gigabyte P35-DS4
4GB Corsair DDR2 800
Seagate Barracuda 250GB
Geforce 8800GT
Antec Truepower 550W
New setup:
e8400 (same one)
Gigabyte EP45-UD3P
4GB Patriot DDR2 1066
WD Black 500GB
Radeon 4890
Antec Truepower 750W
EDIT: added hard drives to setups