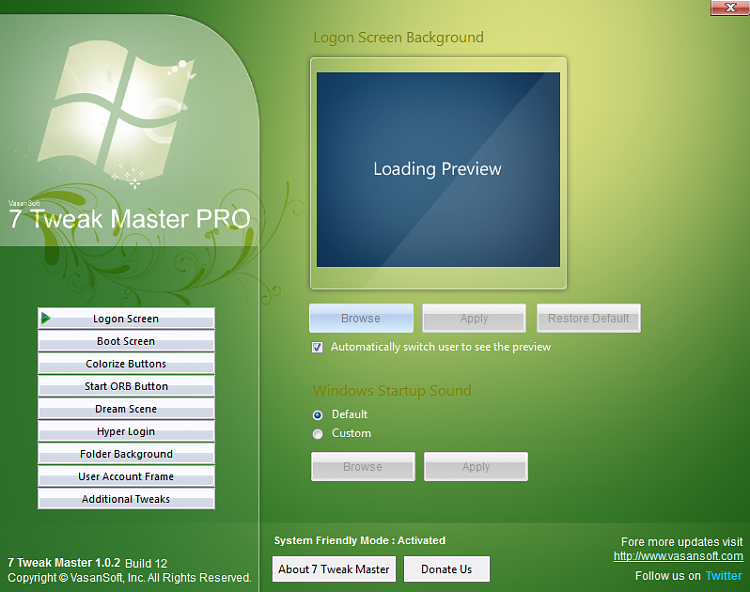 What is 7 Tweak Master PRO?
7 Tweak Master PRO is the next revolutionary app for fine tuning your Windows 7 which is almost done coding and waiting for some final beta checks. This application was about to get released on this Christmas day as we planned but unfortunately due to some unexpected reasons the release date has been postponed.
What features will 7 Tweak Master PRO?
(Suggested so far...)
● Logon Screen Changing with additional features.
● Boot Screen Changing with additional features.
● Hyper Login (to make your Windows to log into your user account in light speed)
● Navigation Button Coloring (Change the colour of your default blue windows forward/back buttons)
● Start ORB Changing
● User Account Frame Changing
● DreamScene Enabler (Give a revolutionary change to your windows, Apply videos as Wallpapers)
● Theme Patcher (Patch your Windows theme service to install 3rd party themes)
● Folder Background (Get your folder backgrounds back in windows 7 which Microsoft removed.)
● 3rd Party DLL Installer (Ex : explorer.exe, imageres.dll, shell32.dll & Etc.)
● Additional Hot Tweaks (Ex : Glass CMD, Tweaks to speed up your windows 7 & Etc.)
& More unexpected features and tweaks...
NOTE : The features listed feature list above will be is not completed yet. More features will be announced soon.
What you should do?
● Suggesting features to get added on 7 Tweak Master PRO. (This will add your name in the About box in 7 Tweak Master PRO too.)
COMING SOON